My 'Mamgu' (c.1880 - 1969)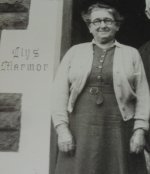 Fri, 04 Jun 2021
(pronounced Mam-ggy as in 'eggy', South-Wales word for Grandmother,
meaning 'dear mother')
Lived up the long hill from the town,
half-way up the little mountain.,
by the cemetery – her husband had been the stonemason.
In fun called their house 'Llys Marmor' (Marble Palace)
(marble worked there for gravestones!)
Stocky, hair turned in around the crown, not wholly grey,
loving but stubborn.
Her gentle husband said, I think, that
arguing with her was like the hind leg of a dog
(logic seemed bent?)
Came to live with us (had been a widow for some years)
– winters only at first –
as friends couldn't make the long trek up much more,
and the cleaning lady felt she could earn more 'up the factory'.
One of my favourite tales from my mother –
her relationship not easy with her mother,
but so touched on her wedding
to have handed to her a passbook
containing all the money
she had paid her mother for her 'keep'
while living at home awhile,
in teaching job, before her marriage.
[IP: word portraits]