Remoteness Day and Night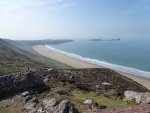 Thu, 19 Apr 2018
High above Rhossili beach*
– dramatic, wide expanse of sand,
then back, low level, round the point
– Worms' Head cut off, by high tide's reach.
Back "home", a sudden squall of rain;
relaxing now our roam complete,
but later look outside and see
the sky has cleared of clouds again.
– And oh, those stars here shine so bright,
far from the nearest city glow
– illumination that obscures
the dazzle of the jewelled night.
* The far end of the Gower peninsula
[IP: after the rain]
I did do something more directly on 'After the rain' some time ago, which was appreciated, but don't really want to repost, so if anyone is interested the link is
https://www.abctales.com/story/rhiannonw/evening-light-after-rain