Spaceship Food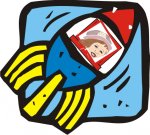 Mon, 27 Dec 2021
1 likes
If planning a long
interplanetary voyage
with limited allowance
for provisions and baggage,
you would need to eat
and have enjoyment
with a varied daily treat
in this long confinement,
small space for movement
and little employment
so–
You hear of research
where food building blocks
will be extracted
by a process long, protracted –
all the fuel chemicals,
vitamins and minerals:
to make nutritious goo
in tubes to suck and squeeze it through
and ooze the dollops to your mouth
meal by meal and month by month.
But, we need to chew
and have something to do –
prepare it and cook,
make our daily food
have a pleasing look
and it must taste good,
different each meal
with an interesting feel:
no appeal, no deal.
So you urge them to
put in some fibre
some bite and some crunch
make it like chicken
or noodles for lunch,
fruit, even veg,
and bread we can toast,
potatoes to boil
or mash, fry or roast.
When this has been done
with some success;
'Why', you might say.
'could things not just stay
as they were, no contraptions
for complex extractions?'
Well, they need to have less
bits left to compress
in the rubbish compartments;    ,
and they couldn't equip
in the space of the ship
storage facilities
and preserve the commodities
for that natural diet
that would keep grumblers quiet.
So, there you have it,
a skeuomorphic diet,
looks like the past,
looks like the real,
it can last and last,
and has some appeal
and a bit of good feel,
so a necessary deal
if fixed your intention
of this space-ship detention!
[IP: Food.
The above is a rework of a piece for an IP  a long time ago on 'Skeuomorphism', I hoped that this was a true use of the word.  It is "*the process in which obsolete materials get reincorporated into modern technology - like when the sound of a camera's shutter clicking is incorporated into an iphone camera or when you have to delete files on your computer by dragging them into a digital 'recycling bin' and emptying it, ie mimicking real-world counterparts in how they appear and/or how the user can interact with them. ']