Why didn't I really like it?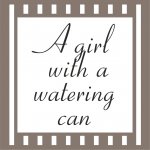 Mon, 28 Dec 2020
https://en.wikipedia.org/wiki/A_Girl_with_a_Watering_Can
A copy of this
was given by an aunt
when I was quite young.
She was loving and kindly
but slightly feared as
she was a primary school headmistress,
with an authoritative air.
I think I was told I
should appreciate it
as it was a classic painting
– our wall 'pictures' were few.
I suspect my parents weren't
particularly taken with it,
as I cannot remember being
'taught' of its features.
As a young child
I think I liked its brightness
but disliked what seemed like
artificiality:
was it the clothes
(of another era, another place)?
– I don't think so, really, though
the slope of the dress
may have puzzled me.
I don't think I ever noticed
the daisies in her hand.
The bush and bank didn't seem as alive
as those I could see outside.
But I think it was really
that I could feel no connection
with the character of the little girl:
her pretty face and clothes were on display
– like a statue, though with soft real skin and blush.
But she is looking away,
not at the painter
so there is no character spark
in her eyes, no sense of depth
or fun, of mischief, or shared joke.
[IP: ekphrastic prose or poetry]