Marzipan Cookies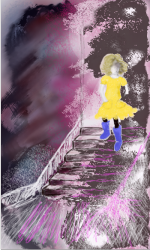 Tue, 02 Jan 2018
            I really don't know who she is.
            At one moment a child, the next: ancient.  I don't know where she comes from.  I just know that I see her from time to time, in the building, crouched on fire escapes, waiting for me on the steps with her face turned up and her eyes all ready to absorb the world.
            She says her name is Trixa.
            That's all she'll say.  I've tried.
            She likes a yellow dress; bright, hemmed with pom-poms; and oversized blue gumboots.  She twirls.  She tries to imitate my walk.
            "Try that again in ten years."
            Ten years.  That's a guess.
            And: "Don't you have a home to go to?"
            She shakes her head.  But she must.  Semi-clean, her hair's been washed, sometimes brushed.  Scabs on her knees but they've seen hot water.  She puts her chin in her palm and waits for me to offer her the world.
            #
            Me.  I wait as well.
            Outside another building. A better one.  Transformed in the long, dark dress; hair pulled back; that languid expression; I tilt my head.
            He picks me up outside.
            "Cold?  Take my coat."
            "Oh, I don't feel the cold."  And I try not to shiver.  And I do my level best not to love him.  Love: that would complicate the matter.
            #
            She's the mirror.
            I imagine that's why I sit with her in the afternoons, and try to tell her something about the world.  About the potholes; about the miracles.  All that mulch you come across in between.
            I remember the other girl: her dress is too big; her shoes are too small.  So small she just doesn't wear them anymore.  Her hair is short, cut with her own pair of scissors, different lengths; and sometimes she'll braid a little bit here and there, keep it together with a scrounged paperclip or a discarded rubber band.  Running wild.  A child of the corridors; dodging adults like a skittish cat.
            The same look must have been in her eyes: noting down the world, all its quirks and peculiarities, and learning how to plot a course through them.
            ...teach me – teach me - teach me, Trixa's eyes say.
            And I try.
            #
            I'm accustomed to getting expensive gifts.  Bright pretty things.
            I sparkle.  And I use that sparkle to bait the next trap.  I use it carefully.  Diamonds are forever after all.
            Sometimes on the way home I stop at a fancy biscuit shop.  I pick up a box of marzipan cookies – nowhere else makes them anymore - and I wait on the steps for her to show up.
            "Hey, Trixa.  You hungry?"
            She always nods easily.  Always comes scurrying up the steps, plops down next to me and happily digs in.  We share them the way we share life.  I want to teach her to trust sparingly, but to trust sometimes.  The world's too big and heavy after all to go completely without.
            "Don't your folks ever come looking for you?"
            She shakes her head.
            "But you have them."
            "Yes.  They don't mind."
            There's a story and a half behind that.  And I don't know how dark or ugly it might be.  Or if it's my job to rewrite it.
            Hard enough, every day, to rewrite my own story.
            #
            This cherub.  Coffee curls.  Softly blue eyes.
            There's a possibility of beauty in the face she turns up at me.
            Open and closed.
            She's a minefield.  And I fear her in a way – the cracks she could seep her way through, the fortified heart she could endanger.  The chance that one day I could run into a burning building to save her.  Because I think… I think…
            "Evanny," – that's the name she's given me – "have you ever been to Africa?"
            "No."
            "America?"
            "Twice."
            "France?"
            "Once."
            "I'm going to go everywhere.  Do you believe me?"
            Funny.  That I do believe her.  That I don't have the world's slightest doubt.
Picture credit/discredit:  author's own work