SAD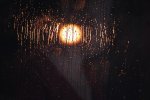 Mon, 26 Oct 2020
1 likes
It is dark;
the sun never seems to rise.
There's no lark
to mark the day; the night sighs
as it grows weary,
I feel fearful,
I feel teary.
It is dark;
the roads stretch out;
false lights make stark
the wounds, about
to puncture hopes;
spinning out,
no-one copes.
Endless rain,
the window's blurry,
and we feign
a passing interest
in the falling autumn flurry;
and we sleep
but we don't rest.
Off kilter;
no filter,
just the blurring of the light;
there is beauty in the night,
caught in silence;
feel the calm.