Eulogy Mood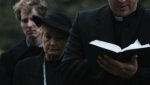 Wed, 13 Mar 2019
Bubbles of rank and direct-from-the-beard beer landed on Stinson's face when Masterson noticed too the strange couple, and his accompanying outburst, 'Is that a bloody casket they have?'
'I believe it is,' replied Stinson.
'Is there a corpse in that thing?'
'I don't know, I haven't asked.'
Masterson sniffed.  'There's no stink of it.'
'Embalmed already, maybe?'
'Maybe.  I don't know, I hate that shit.  And don't look at me like that.  Yes, I am a priest who can't stand the sight of those corpses when they're all dolled up like that.  It's an unnatural thing.'
'I'm not looking at you in any way different than I have before, Masterson.'
'What are they at? Are they thinking of burying it in here?'
'I'm at a loss, Masterson.  But whatever is going on, I think we should go over to them and say a few words.'
'What?  Why would we do that?'
'Because it's our job, you twisted soul.'
'I'm off the job right now.  Look!' he held up his glass of beer.  'I'm without administration.'
'Well, it would seem negligent of us to not offer some words to these people.  It's of no matter what persuasion they are.'
'You can go on ahead, Stinson.  I'm in no mood for eulogies.  But I'll back you up if there's a fight – if I'm not otherwise engaged.'
Stinson thought this to be the most bizarre statement he had ever heard.  What kind of human being, in his view, would not be in the mood for a warm and pleasant eulogy?  Anyway, he most definitely was, ready as always to deliver a heartfelt paean to the lately expired, so he placed his untouched glass of beer down on the bar beside Masterson, and bravely marched towards the couple with the coffin.
'Hello,' he said, delicately, when he arrived before them. 
'Hey,' said the young woman, rather stoically, without looking up.
'I'm a priest.' 
Dagny heard him at the bar and sighed; the young woman looked up at him, stoicism gone, and he saw her intense blue eyes, and she sighed, and the motionless man beside her made a sighing sound too; and everyone else in the bar made very loud sighs, including Masterson.
'I just wanted to offer my condolences...'
'Without even asking if there's a body in there?' the young woman snapped.
'Well, I thought it would be impertinent to ask,' his response.
She produced a larger sigh, looked up at Dagny who gave back the same sigh, and the others followed suit.
'Yes, there's a body, and thank you,' the young woman said, her initial hostility deflating.
'Do you mind if I ask who – ?'
'My mother.  Is in the box.  We've broken faith with her by putting her in there, but.... hasn't she gone and forsaken us heedlessly, so we shall call it even for now.'