For Keeps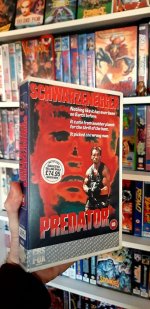 Sun, 22 Mar 2020
1 likes
--Dere ye go, wee man.  De Predator.  For keeps.
--Ah, tanks, Easy.  Tank yoo, tank yoo.
I can't believe it.  In my hand now: a Scotch videotape.  It luks like any other Scotch videotape.  Like the ones you see in the ads with Professor Skeleton.  Re-record.  Not fade away.  But it's not like one of those ones, not anymore anyway.  It was once blank.  My mudder got it for me for my birthday.  But now it's not blank.  Now it's blessed.  For Easy Weir has done me a good deed by taping Predator on it.  He said to me, just gimme a blank video, son, and tree pounds, and I'll make a copy for ye.  It took me a few weeks to get de tree pounds. But now finally we've come to the end of a magnificent journey because how can you beat:
Guns (lots)
Cursing (lots)
Aliens (one, but a mean one)
Explosions (lots)
Gore (lots)
Arnold Schwarzenegger (one, but a mean one)
All for keeps.
The only thing about it is I don't have the video cover.  I have to make do with the cardboard Scotch case.  But that's okay.  I can deal with that.  Anyway, Easy said he would also save the poster for me that he has on the wall down back where he keeps the horrors and kids videos.
With Predator (copied) in my hand, I go and have a look at the cover of the original again.  I think I've memorised it by now.  CBS FOX Video.  Suddenly I remember something...
--Easy, did ya copy the trailers too?
--Eh, no, I don't think so, he says.  I didn't think ye'd want de trailers too.
--Ah, it's okay, as long as I have de fillum.
As I'm lookin at the cover, Dixon walks in and comes over to me.  I hold up the Scotch video to him and say, Guess what dis is?
--I dunno.  Wha?
I hold up the original Predator cover in the other hand and say: DIS!
--Ah, he taped it for ye.  Good man, Easy.
Then I see Dixon's face flush a bit with envy.  I've seen this before.  Oftentimes it's McGurk and meself who get things and he doesn't.  Dixon rarely gets things.  So the result is he gets jealous. 
--But it's not de original, he says.  It's just a copy.  I wudn't be too excited if I was yoo.
--Ah, give over, Killjoy Silk.  At least I have it.  I can watch it whenever I want.
We say goodbye to Easy Weir and have a walk up the town.  Dixon's hoping he'll see his auntie in the Roma restaurant and she'll loan him some money for chips.  But when we get to the Roma, there's no sign of her in there.  And the smell of chips and burgers and pizzas has us starving our arses off.  So we move away from the place quick and then Dixon says, Will we go into Flannery's?
--No way, I say.  He's an oul cunt.
 I'm right – Flannery is an oul cunt.  But Flannery's Video is a gud video shop, no doubt about that.  He has more videos in there than Easy Weir has.  We'd go in there more if it wasn't for the fact that he's a cunt.  Last time I was in there he chased me for the overdues.  I don't wanna bump into the prick for a long time.
--I'm jus gonna pop me head in for a bit, says Dixon.  See if dey got Poltergeist tree.
--Okay.
Flannery's is just across the road from the Roma, a little further down.  Dixon runs in and I wait outside and touch and feel my Scotch video with Predator on it like it's some kind of precious artefact. I get some weerd luks, for sure. 
Dixon isn't long in there.  He comes flyin out the door and has us walk up to the corner.  Dey mustn't have Poltergeist tree. 
--Lookit, he says, holding up a video cover in his hand. 
It's the original Predator cover.  He's robbed it.
--Ya bastid, I say.  Brilliant!  Nobody see ya?
--Flannery isn't in.  Some fuckin beanpole wit a Paul McGrath T-shirt.  Easy-peasy to rob in dere.
--A Paul McGrath T-shirt?
--Yeah, it has Paul McGrath's mad head on it.
--Mad, I say.  Anyway, giz it here and I'll put my tape in.
--Wha? Whut do ya mean?
--Well, didn't ya rob it to go wit my copied video?
--No, dis is mine.
--Wha?  But you don't have de tape.
--I know.  De tape is yours.  I'll keep de cover.  Dat means between us we have de whole shebang.
--Dat doesn't make sense.
--Makes a load a sense ta me.
--But how will dat work?
--When you borrow de cover from me, it means you'll have de whole ting.  And whenever you lend de tape ta me, den I'll have de whole ting.  We'll share it.
--Ah, okay.  Can I have it now?
--Sure.
Dixon gives me the cover and I slip de Scotch tape into it.  Oh, my.  It feels so heavy.  I have de original now.  This is a great day.
Then a voice behind us--Here you, ye wee fuck-uhh!!!
It's the young fella with the Paul McGrath T-shirt standing at the doorway of Flannery's Video.  He's detected us.  Fuckin awful T-shirt.  Paul McGrath would die of shock if he saw it. 
We get out of there sharp and run off through the town.  He chases us for a bit but soon gives up.  It feels like we've done this before.  But never with Paul McGrath.  The Predator music plays loud in me head as Paul McGrath fades away behind us.  Re-record.  And fade away.  
When I get home and put Predator on, there aren't any trailers on it, just like Easy said, so it's still not the actual real deal I have, but shur lookit, I tell you what, who cares, for it's a great day it is, it's a great day. 
Special Thanks to Charlie Glennerster for kindly allowing his photo to be used.