Phantosmia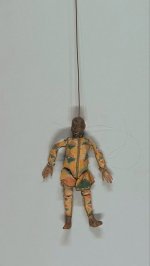 Fri, 20 May 2022
Now the recent rainfall had made parts of the bog boggier, burblier.  Secret mud-pits and other hideous recesses lay in and around the drier hummocks waiting to greet the foot of a doomed wayfarer.  It could be a nightmare for someone if a misstep occurred.  And for someone it did.  A splash came when no-one expected, for who would expect it in a moment of stasis, especially not the misstepper who found herself up to her waist in a gelatinous brown soup; the drop was also kind enough to provide a brief mud wash for everyone else.  Imogen had taken a wrong step and gone down into a pool of sludge about three feet high and a half-metre wide.  Devin immediately rushed to help her out.  Old-style heroism.
            It's not quicksand, is it? he asked, grabbing her by the hand.
            Are you having a laugh? We don't get that here.  
            I'm having a laugh.  Again, good job you didn't have on that black dress.
            A good pair of boots would be nice.  Oh, it's all spongy in here.  Get me out!
            He got her out.  Easily.  It wasn't quicksand.  But when pulled up you could see her body had become part-bog, the bottom half, covered in moss, slime, strange eggshell petals, warty florets and leaves.  She panicked a little, brushing the flotsam off her legs, fearing it was bits of other bodies.
            Ah, there's graveyard all over me, she said.  I should have worn your black dress for luck.
            I wouldn't worry, MacKenna calmed her.  Many times in my experience of the fouler places I have wandered into a trench just like that one, so I have come to be able to distinguish between your normal herbal grot and the body parts. 
            You're one of us now, said Sasdy, as though all of them, not just the history scavenger, were well-used to getting close to the dirt of the world, owing, he was implying, to their alternative lifestyles.         
The bog was like a bowl of porridge, cold and left to sit for an hour, a starlight glister upon it like a sugary quilt.  Apart from when it broke off into dense black reservoirs.  Slushy wet sounds all around, the hiss and flit of sap-seekers, the odd trickle, or ooze, the burping of bullfrogs and slosh of the heather as low winds landed.  Sounds which when collected generated a different kind of hum over everything, one not of the man-made kind.  Something more of nature's making, pre-Adamite. 
Heads were turned by an amorphous vision about fifty yards across the bog; sinewy lines pulsated in the mist and from out of them escaped a ragdoll shape, a giant puppet whose handler was in too sluggish a mood to grip the reins with ardency, its arms slowly rising, falling, slowly rising, and falling, a mournful wisp.  Too tall to be Sullivan, suggested MacKenna, that man who in height was not a threat to anyone in the house, nor even to the little folk of legend, and too thin to be Moloney, who carried a ton or two of belly with him.  It dawned on them they were looking at their deceased houseguest and fear was a following occurrence for all.  For they were used to seeing it slouched dead on a stool, or flopped miserably on a bean bag, not standing tall and alive and as silent and still as an expression of pure horror.  There was also a realisation in some that they were standing at the very grave they had pulled the corpse out of and now they looked more or less like a gang of criminals trailed back to the original scene---and wasn't that an unfortunate turn of events? 
Fixed in one spot, the risen bog man did not seem to be concerned with any of them.   It seemed more concerned with its place of origin, its late place of origin, and previous to that, place of life's culmination.  The head was aimed downward, inspecting the ground with what appeared to be presence of mind.  Eventually it squatted and dipped its long arms into the sod.   
Well, I can't believe it, said Sasdy.  Is that the man himself up and about?
            It is, said a startled MacKenna. 
            Which man?
            The bog man.
            And the bog whisperer – where's he?
            You'd want to narrow that down for me.  We're not short on whisperers. 
            Moloney!  He could be in the hills now with the shotgun on us.
            I suppose Elder'll be over the moon about it but somehow I'm not enthused.  I'm finding it difficult to believe what I'm seeing, in fact.
            Whatever is the chap doing over there?
            I don't know – it seems he is feeling around in it. 
            Look – he's found something.  What the hell's that?
            Looks like an arm.  Shoulder bone.  
Jeepers, lift a hair and you'll find a body part round here. 
            Didn't I say already, added Imogen.  The whole place is a graveyard.  So long, fountain of youth, and so much for you.  So long to every last one of you too because we're out of here.  Come on, Devin. 
            What do you mean? said Devin, half-whispering.  Don't move.  He might come after us. 
            I'm not standing around waiting for that bleeding zombie...
Devin considered that all along perhaps the fetor had come off the bog man for that very human stink which had been bothering him this weekend was now at its strongest.  To describe it now coming over the naturally putrid fragrances of the bog: a large jug, filled to the top with human sweat, warming in a room at midday.  Ten of those jugs.  A small unventilated room.