La Boisselle (Raprochement)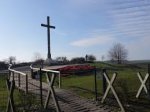 Sat, 02 Jul 2016
LA BOISSELLE  (Raprochement)
Echoes of guns stuttered near
Eggs laid, best made plans -
There was so much to do.
The bed made (semen-stained)
The timer cast a
Shadowy proclamation.
Yolk - yellow sand 
So full, so gritty.
The pity of war.
Husband as Captain
Fatherland in your smile,
Nursing an optimistic
Tiny platoon.  All so raw.
I couldn't fathom the
Incessant scarlet streams,
Was I mortally wounded?
I clot-hopped
Through ripened corn,
It became blackened.
Once vibrant villages,
Humming hamlets,
That had swarmed with life.
A family riddled with loss
Because they never were.
All the babies never
Brought to fruition
Gurgles stifled
The birth of death
Crosses upon crosses.
The land tried one
last blast before zero hour.
Birds sang in protest.
There are always the clichés, so
The sun shone as some
From a higher ground
Watched the battle
With binoculars.  With dread.
There but for the grace of…
Down to timing again.
Dawn, dusk, set in stone.
The shock of the shell-hole
At Boisselle,
Deeper, more empty than death.
There were so many battalions.
There were none.
It was over.
Never to be over.
In a darkened carriage
In a wood.
Some kind of clearing?
But this stumpy, formless forest
Still twitches with fear.
Young voices ricochet
Off gutted trunks.
Oh Mother make them stop.
Someone brought tea and rum.
A begrudging offering of a
Disembodied hand.
Only a temporary forgiveness?
Signatures, a pact written
In crimson, shed too recently.
Not in this shed.
This isolated pram-tram.
Eventually the deluge lessened.
Dribbled sporadically
Into damaged psyches.
Severed limbs have prosthetics.
Surgeons stitch some sense
Of days unlived
Back onto faces once charred.
I have heard things
Can virtually be re-grown.
So little bloomed then,
Soil was still screaming.
Now land buds poppies,
Yes gash-red, but life
Grafted onto
The bones of no tomorrows.
Would they mind?
Do you mind?
Final bell-toll as we
Crawl out in our own
Eleventh hour.  The call
For the dead is fading, though
Embryonic whispers
Skim our sleep
To remind us
Peace is a work in progress.
Still.  The pounding has ceased.
Remember love is never barren.
Your eyes are life itself.
Hold me, and we will say
An armistice prayer
For us
For them.