Come October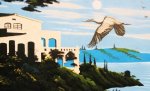 Thu, 01 Oct 2015
Take down the hammock –
wipe  the guano
from  chairs and table
where we sat,
sipping mint tea
stow them in the shed –
watch the sun
swallow the key.
Light's like fizzy, 
liquid gold
this afternoon – 
like the demijohn 
in a musty coign, full, yet,
of wine from last year's russets.
The hedgerows don
a shawl of silvered dew;
the monkey-puzzle tree
hung with a peignoir
of new-spun spider-webs
glistens with diamonds
fit for a queen...
a pearly trail in the grass
meanders on past the orchard
to a hole in the fence
where the deer
squeeze through.
The pond – iridescent;
a kaleidoscope of leaves 
amongst the reeds,
with scraps of sky
muscling on through.
Take down the parasol,
jettison spent paper napkins
now summer is done...
my feeble attempts at origami
over, for another year.
Oh, that we could
fold ourselves into geese
and follow the sun...