Of a Saturday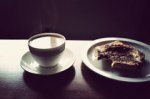 Mon, 01 Aug 2011
2 likes
The kitchen is warm –
the wood-burner glows
like a child's rosy cheeks.
Joe sits by the fire to doze,
and read the papers.
It's bread-baking day,
as it's been for years;
she fetches flour, oil, yeast,
and honey from the larder.
He brings her some water –
warm from the kettle
on the stove, as she mixes,
then kneads the dough.
Her lumbago niggles...
her fingers don't do
what she tells them...but
she manages, as always,
as ever. She thinks of things
she still has to see to...
Chop some more logs,
collect the shopping; remind
him to get his haircut; he never
seems to bother these days...
let alone shave. She sets
the bread to rise; a second proving.
While it's cooking in the oven,
"It smells good enough to eat,"
her Joe remarks. 'Can't wait
for supper!'...
which comes, soon enough.
"This is great, love...home-baked,
I'll be bound. A cottage loaf
and rolls as well; so tell me,
just when did you make them?"
She pours him another cup
of tea, as they sit at the table;
hers grows cold.