What Remains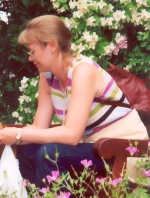 Tue, 28 Jan 2014
The clock we gave her on her eighteenth birthday,
ticks, stoically, on; a largo beat, more than suits the mood
of this room – perfumed, still, by patchouli, musk, 
sandalwood and vanilla; 
nothing upsetting the status quo, it would suggest,
except – trash her many incense trays 
cinereous in their waste – 
ashes to ashes, 
dust to dust.
Her piano mocks me, yet, with its silence;
unplayed, untouched; the lid –  up
as it always was. 
Her latest piece – The Goldberg Variations
still open at the final page.  I can hear her playing, now,
in my head.  How she perennially stumbled
on the C minor chord in the very last bar... 
Practice, sorely neglected since she'd been elsewhere, 
busy dying, as she wrote in her diary – no time 
for other things. 
Blitz her wardrobe – bag up her clothes – her books, 
photos and pictures stacked in cardboard boxes
to look through, later; couldn't help but notice,
some she'd never shown me.
Putting two and two together, surmise
this would have been her husband's muse – the one
intended to replace her as soon as she'd
slipped this mortal coil...
stood in for her when she became too sick 
to satisfy his needs – sexual, or otherwise; 
so much like her – could have been her twin.
Clear the kitchen cupboards – spices squirreled 
on her trip of a lifetime to India, Thailand,
and Vietnam. Take some home with me
and chuck the rest; nothing else for it – 
half used, and past their best.
So tell me why, for pity's sake, as I bin them
it's the same as throwing a living, breathing 
part of her away?