Echoes Of Town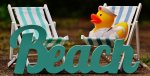 Tue, 06 Aug 2019
1 likes
Dear diary...my trip to town on Monday 29th July 2019.
Where would we be without our dear clouds and trees? I have withered in one brief hour of walking these pavements hot and sticky. And I at snails pace do wander, drowned in artificial sound of drilling carried on the breeze, amplified as I walk on by.
And In the charity shop assistant wrinkles nose like Samantha in Bewitched, I feel so sorry for her, this pregnant lady as she sweats, no escaping heat and racket...I wonder how she copes.
The skinny drunk guy stands like a withered tree against a wall, stains on clothes, lost look in eyes, with a can in hand, the only friend that he can call.
Mums with screaming babies chat on phones outside coffee shops, tables heaving with thirsty mouths and hungry bellies, while kids jump and run about, some stumble and fall leave mums wondering what it's all about.
In our town square echoes of a beach with yes...real sand! Deckchairs where mums can arrange to meet. Children building sandcastles, while over loud speaker D J organizes games and plays his loud tunes...all that's now missing is the ocean to put me in right mood.
Image is by pixabay free.