Let's Raise A Glass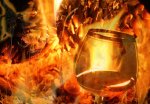 Mon, 02 Sep 2019
1 likes
Soon Autumn leaves
will dance a waltz
at nature's silent melody,
I will raise a glass
of wine and confess
while clock is ticking,
to celebrate returning
pleasures as October
wings its way, and
bitter cold will then
presently be nipping
when I drink
my Beaujolais.
Once more I'll walk
through woodland
and forest with
smile to depart,
feel swift
brisk of energy
exercise my
beating heart.
So with this bit of rhyme
as sometimes I like to see,
glorious season of celebration
can't come soon enough for me,
had enough of sweltering heat
of feeling lazy and slovenly.
Finally as summer ends and
gradually temperature drops,
I'll find decent shoes to wear
put away those cumbersome
flip flops,
Image by pixabay free.