Man With A Plan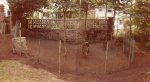 Wed, 11 Oct 2017
Sometimes out
of bad situations
new conditions
can arise –
like a phoenix from
out of ashes lifts,
darkness can be
replaced by wink of light.
Dad remember
not long after
elm was cut down,
you came up with a plan;
a dream to create a glade shady,
away from daily noisy din,
just outside back gate with sun
beating down you carried on,
rich earth there was plenty
with fork – hoe and spade,
establishing desired effect
measured with string,
told yourself it's all worth while,
showed no sign of slowing down.
Daydreams you had so many
sitting in your bit of paradise,
sweeping back those cobwebs
of indecision, leaving life's
problems far behind, you
were always a man with a plan.