Proud Moments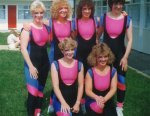 Sun, 10 Apr 2016
Dear Diary...After much coming and going to the beach, It was now moving towards afternoon, we just wanted to get back to the chalet to prepare for our performance. There was an air of anticipation with all the excitement of getting ready.
As we proceeded to walk through the camp by the outdoor pool area, our eyes opened wide as they met with so much muscle that we had to pause and observe this show of strength. The guys were getting ready for the tug-of-war as they stripped off their tops to just vests. We'd never seen such huge chests and biceps this close up before – talk about Popeye reincarnated, the only thing these guys lacked was the tin of spinach and a pipe – Oh Yes! And the Pluto chest muscles. Even when I went to the gym I never saw guys this big and muscly.
We stood around waiting as they took hold of the rope in preparation, this wasn't just any old rope, it was thick and bulky, the kind you'd find on some of the sea ships of old, yes! This was definitely serious stuff.
We girls decided to pick a team as they looked ready to begin, then the starting whistle blew. It was a free for all, neither team looked as if they would back down, the rope was heaved slowly backwards and forwards as those strapping men put everything into the job in hand.
Tugging this way and that, you could see their biceps swelling up like balloons, their faces expressed all their determination and power – talk about He Men.
As the struggle continued eventually one of the sides won, sadly it wasn't the team I picked, though thankfully I never put a bet on them, betting and gambling is something I steer well away from, as I've never won anything apart from maybe once or twice in my life. It had been an interesting experience that I've not seen again since and probably never will, apart from maybe on the television. We left the muscly men behind and this time didn't get waylaid on the way back.
Walking in the main door and through to the bedroom, the floor was a sea of garments that had been discarded quickly in order to get down to the beach, so the first plan was to have a tidy up. We were typical woman and had bought many changes of clothes with us, in fact nearly a whole wardrobe of evening wear – leotards – day wear and shoes. I think it's a woman's prerogative to be able to have plenty of choices when dressing up, you never know what you will feel comfortable in till you get to that moment of walking out the door, so like a boy scout we came prepared.
Whilst getting ready for the competition I have to say that the butterflies were doing somersaults in my stomach and I had many trips to the toilet I was so nervous. I couldn't believe how relaxed the other ladies were, here was I the teacher feeling anxious, yet they were taking it all in their stride and just laughing about the whole thing.
With an hour to go we got into our costumes which I'd had made to order by a friend who owned a leotard shop in Devizes Witshire. She had some spectacular lines of clothing, not only for fitness but ballet and dance troops too, I bought all my gear from her and she would be very obliging when it came to having outfits specially made up for me, there would also be a discount because of the big orders I made. She was only a small shop so it was good to think I was supporting her. The costumes we wore were a two piece in the colors pink – black and blue which I thought was really striking and electric.
Two of the girls had great fun painting a design on our faces to go with our costumes, I thought we looked really professional and was pleased with how we turned out.
Once we were all dressed up and ready, we decided that a photo was in order to mark the occasion, so proceeded to look for someone outside the chalet to do the honors. A lady who was sat on the grass was only too pleased to take our photo.
I'd bought my cassette recorder with me, so putting the tape in and putting the music of Adeva on, we did some practice runs just to make sure one last time we had the movements right which seemed to come together okay. That was it, there was nothing else we could do now,
it was our big moment as we headed on over to the building where we'd be performing our routine. With all giggles and nervous laughter giving way as holiday makers stared at us.
Walking into the big hall, there weren't too many people there at that moment apart from the judges and other girls from my class that were staying in another chalet, plus some friends from Pop-mobility who were also taking part in the competition stood around, so we all got together and waited our turn.
As we watched the other groups performing, further people arrived, I realized even more how simple our routine was, but then I was no expert in choreography and tried hard to let the feeling of despondency go for the sake of my friends.
Pretty soon it was our turn to go up on to the stage as I gave the tape to the girl with the cassette recorder. I can still recall the feeling of trepidation as we stepped up, my heart pounding in my chest as I tried so hard not to show my nerves, I know it sounds stupid especially since I'd been so confident in my own classes, but I couldn't help feeling we were being dissected with all eyes on us, just waiting for us to slip up which of course I'm sure was all in my imagination.
We had to get this right, it was as simple as that there was no place for errors. Getting into our positions I glanced over my shoulder and whispered wishing the others good luck, then stood ready which seemed like ages, it was so quiet you could hear a pin drop, I just hoped my stomach didn't start rumbling because that would have been embarrassing.
The beginning of the music started as we began to move, I couldn't see any of the judges, not because they weren't there but my attention was on the music and the counts, I was kind of on auto pilot and really hoped that the other ladies were following me okay. I have to say as we went through the drill it was over as quickly as it started. While we waited for the music to finish I then became aware of people watching us and took a deep sigh coming back to reality as we left the stage.
Nobody came up and said it was good or bad, in fact I felt quite deflated at the lack of enthusiasm, but I guess we were the only ones who knew how much effort and hard work it took to achieve this routine that I'd made up myself. We never did come anywhere in the competition, but at least we'd had ago and for that I was really proud of myself and the other ladies.
There wasn't much else we could do after our performance so we decided to spend a couple of hours at some of the other workouts before heading back to the Chalet to get ready to go out dancing.
Apart from the lack of water, I can honestly say the weekend was a great success, we'd covered most of the fitness classes and felt pretty sure we'd have a few stories to tell when we returned home. In fact the girls enjoyed it so much we went back to Pontins in the October, but this time we went to Camber Sands. Life sure wasn't dull being a fitness teacher.