Shades Of Meaning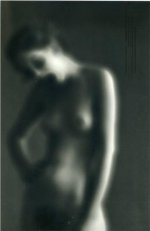 Tue, 11 Jul 2017
Her desirability increases,
yet – drowning in shades
as light dwindles shadowing
her deep, seductive nature,
body shifting – as if moonlight takes
this intense...mysterious slender form.
"I'm here!" She declares, reposed with
slender arms seducing you with passion.
This woman is the silent model, her whispering
thoughts seem to fraternize with artists; gesturing
almost with promiscuity – maybe I'm wrong and
she's an academic, a struggling student of the arts.