When Time Stood Still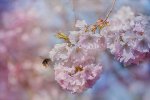 Wed, 27 Mar 2019
We go to our secret place where
day and night have no meaning,
lock time away in a room of our
minds hide key for safe keeping,
relax in serenity of day where
nature's wonders were revealed,
soft humming of distant busy bees
left sleepy senses drunk with nectar.
After darkness consumes daylight,
moths they do take flight...what
care of minutes and hours have we
between explored delicate kisses?
Strip away the layers of repressed love,
let's recover what's lost of emotional youth
when earth baked – no dew could be found,
in those heady days when candles were lit,
we listened intently to Leonard Cohen...he
inter-weaved our closeness with his words,
your gentle kneading hands calmed turbulent
waves of skin, both gentle and pure energizing.
Then! Tired minds fragile like gossamer ache
from so much contemplating...like bees these
many industrious cells leading to library of
thoughts need to unwind in nocturnal silence.
27th March 2019.
Inspired by: sitting beside our garden blossom tree
and watching the bees busy humming away. Then
looking back on a period in 1976 when we weren't
afraid of physical touch and life was easy going,
time had no meaning.
Picture by pixabay free images.