Wrong Time For A Walk In The Forest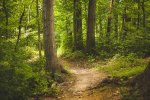 Sat, 30 Sep 2017
Picture from pixbay free images.
Dear diary...Sunday 24th September 2017.
Awoke to a fine sunny day which added to my excitement of a trip out to Savernake forest, in fact the first one since, I can't remember when.
A thirty five minute drive leads through some wonderful countryside which I've so missed. The town of Marlborough wasn't busy at all being a Sunday, and the long Marlborough road of the A346 is such a pleasure to drive along. I remember in the middle 1990s being taken along that road on the back of a honda motorbike at great speed, what a great experience that was.
How I've missed the feeling of freedom, life on the open road even though I'm not driving, I have no inclination to get behind the wheel due to all the traffic around and the unpredictability of drivers, I sometimes look at cars as evil monsters as I sit in the passenger seat next to my partner, gazing at the huge lights on their fronts.
Once we left Swindon behind, I was starting to feel like I was on a well earned break, I do love my home, but it's nice to getaway even if it is just for a couple of hours.
It's hard to believe I've not had a holiday in at least ten years, quite something for me, as I was always one for traveling and finding new places to discover, but hopefully I can get closer to my future goals.
The forest wasn't exactly as I'd planned it to be, every available space had been taken over by the many picnickers, people with dogs and young children, barbecues, tents, also gazebos. It's not that I begrudge those families to slip into the forest with their picnic hampers full to the brim, or the dogs barking what a din. It's understandable why they came with the sun shining and breathing in that lovely cool air. It was just that walking wasn't much better or easier, we had to park the car a fair way from the main path because there was so many cars and vans parked up.
By the time I'd got to the main path, bearing in mind I wasn't able to go far without stopping every five minutes and time was moving on. Everywhere we went there were so many people it felt busier than town, there wasn't any peace and quiet, I couldn't even hear any birds, apart from a magpie squawking somewhere off in the distance.
I did get annoyed when some young guys walking along decided it would be fun to break some branches off trees, then ripped off all the leaves and used them as floppy swords, till they'd had enough and threw them away, I could understand better had they been young children, but they must have been in their early twenties and should have shown more respect for the natural beauty of the trees.
I was only able to walk for about 30 minutes and so hardly got very far along the path before having to turn around and come back to the car which left me knackered. I did manage to spy some squirrels up in the trees which was a pleasure to watch as they jumped from branch to branch.
At my six week checkup with the nurse at the hospital on Wednesday 27th September, I relayed my walk to her and said I was only able to manage 30 to 45 minutes walking, she assured me I was doing really well and showed me the x-ray of my hip after the operation, I was so amazed by the accuracy of how level the surgeon had made the left operated hip with the right hip.
I was hardly in with the nurse for more than about twenty minutes. She took out a couple of stray stitches that had been left behind and asked me to balance my weight, first on my right leg then on my left.
"You've got very strong hips," she informed me, much to my relief. Everything seemed fine, as she then said that they would see me in a year's time, I would have an x-ray and If everything's okay then I'll be discharged.
It's my poor right leg that wasn't operated on that's suffering the most at the moment having been immobile for so long, but the stick does make me feel more secure, just got to keep on trying and hopefully by Christmas I'll be fitter.
Next time I go into the forest hopefully there will be fewer people, the sun will still be shining and I'll be walking further...I hope so anyway.