Monochrome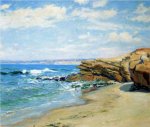 Thu, 13 Mar 2014
The sea, never still, never quiet.
Alive!
Night time seems to emphasise its nature. A full moon in a partially cloudy sky makes a reflective pathway across an ever moving alternation of blacks and whites. Lacy foam rises and then curls in on itself in its relentless race to the shore. It disappears in a white froth and is sucked back only to return again and again. Sky meets sea in a line drawn by an invisible hand using a charcoal crayon. Trees lining the shore even darker than the dark sky, seeming to be delineated once again by an unknown artist.
Sounds intensify as the waves get closer. Its approaching roar seems as if it wants to engulf all in its path but then retreats quietly when the onslaught fails.
The holiday was meant to be a cleansing of the spirit, a time alone to recover, to come to terms with. I'm not too sure of what 'coming to terms with' means. Friends meant it as an acceptance.
I don't think I will ever be able to accept.
Out of season holidays are easy to come by. I didn't care where I went as long as I could see and hear the ocean. The nice girl at the travel agent didn't understand and tried to offer me all sorts of luxuries. Simple and sea was what I wanted. An escape from the world and from people.
'You realise that there are no TVs or Wifi don't you?' she had said in a very concerned tone. 'The hotel is far from town and no local transport.'
Bless her! She thought I wanted human companionship!
The hotel was perfect. The owner spoke little English and I none of her language so any conversation was difficult.
Meal times and other necessary details were printed out.
She showed me to my room. Small but everything that I needed, including a tiny terrace that overlooked the sea. Furnishings and décor in muted shades, no bright or startling colours to jar.
I had little appetite, bread, cheese and fruit were enough. And those, to me at least, had no discernible taste. I sat in the dining room alone, the only guest. My hostess offered me a glass of wine. I declined, drink was not my way to forgetfulness. Only in the sea with its simplicity and complexity of waves rolling onto the sand could I feel some sort of peace.
I sat all night, unable to sleep, watching and listening. I so wanted there to be a dramatic thunderstorm, with electricity arcing through the sky and finding rest in the troubled sea, the kind of rest I so wanted. Strange considering the fear I had of it as a child. The sound of thunder could now dull and mask troublesome thoughts.
But the sky remained clear.
As dawn approached the colours changed. I am sure an artist would see an infinite number of colours but this new restricted palette meant more to me. Clouds began to take on colour, pinks reflected in the surging waves. The sun rose quickly, but not my spirits. At last daylight.
With the rising of the sun ancient people were thankful. They had survived the night and would live for another day. But give me the black, whites and in betweens of night and moonlight.
One day I took myself to a tiny beach. Rocks had been pushed up from the bowels of the earth in some ancient time and the mad waves dashed themselves against their smooth inkiness in a relentless attempt to diminish them, sending a fine filigree spray into the air. The sun shone silvering the spume. The wind blew. I found a rock to sit on, a little shielded from the cold blast. Wrapping my arms around my knees I gazed out towards the horizon. Sea birds peppered the silver, grey sky, their names unknown but their movements hypnotic as they soared, glided, flapped and dived. How small and insignificant I felt as I sat there.
Most days I walked on deserted beaches or stood high up being buffeted by troublesome currents of air which seemed in a way to be in league with the sea, both trying to heal my hurt.
The day before my holiday ended I went down to breakfast and found myself hungry and looking forward to the home made breads and pastries.
A young couple had arrived. They sat at the farthest part of the dining room from my usual table and barely acknowledged my smile and 'good morning'. They only existed, in that moment, for each other.
I smiled to myself.
Remembering.
Next morning, my last morning.
I woke with the sun.
I needed to walk on the beach, to be close to the sea.
The cool sand between my toes, the shushing of the waves brought me some kind of peace, an acceptance.
A coming to terms.
The salty water.
The origin of life.
Lapped against my feet.
Comforting.
Soothing.
Full of promise.