Aura (9)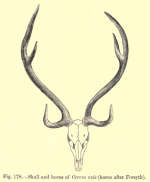 Mon, 05 Nov 2018
Totem
Inverness
2016
Gillis shifted in his seat and flashed a joyless smile. 
'No - like I said, we're just going through this file, it's been dumped on us. We've barely scratched the surface of it yet. But your name comes up, it comes up several times, and we wanted to sort out a few of these loose ends and strike you off. That's how it works. We have to chase up every possibility, rule things out. It's just a chat. See if we can fill in a few blanks. Just a chat.'
The man across the desk sniffed several times and rubbed his nose. Gillis eyed the file. Andrew Fraser Watt. It was close. He knew it was close and he felt buzzed, mildly euphoric. He reached for his green tea and stifled the rush. Keep calm. Just a chat. He sipped the mug and his lips curled. Weak cat piss. Two months off coffee. Doctor Roberts with his hooked nose and vague air of disdain. It's making things worse. No coffee. 
Have some cat piss instead. Experience the world as a sluggish moody drone. Come back in four weeks. That's your sertraline prescription, I'm not trying to shake your hand. You've done nothing.
Gillis shook the imaginary exchange away. Watt lifted his own glass of water. He had a mop of red curls and a greying beard. His eyes were little marbles behind his glasses.
'Aye, I get that. Why'd you have to haul me down here though? You're making me think there's - '
'You're free to leave at any time,' Gillis said. 'We just thought... head down here, get a wee bit of privacy. We know how workplaces are. Better to catch you outside, take a wee trip down here. Don't want to cause gossip and chatter. Just seemed a more relaxed area to grab a wee chat. But you can leave at any time.'
The Financial Conduct Authority fellow cleared his throat beside him. Hay. Roderick Hay. He'd wanted to sit in for this. The FCA were a particularly interested party. Watt scratched his beard.
'Aye. No, I appreciate that. I appreciate that. It's just making me feel a bit... some of the specifics here are a bit hard to recall straight away. I'd need - I don't have anything with me. I'd need to login and... '
Gillis clasped his hands.
'Andrew. Let's take this back. Simplify it. Broadly speaking, part of your role at the bank - part of your role - involves dealing with, managing transactions for several reputable law firms.'
Watt nodded. 
'That's right.' His lips were tight and his nose twitched. Gillis separated two stacks of paper. Watt's eyes darted to them. Gillis slid a sheet from the top of each pile.
'Thousands of transactions,' he said, 'often involving large sums of money. Such is the nature of the profession.'
'Aye,' Watt said. Gillis tilted his head.
'They're complicated, aren't they? Law firm accounts.'
'Yes.' Watt's voice was quieter. Gillis was speaking to him like he was a child. It was unnerving. 'Yes, that's fair.'
Gillis placed two sheets before Watt. Hay leaned forward and Watt watched him.
'Let's take one of these firms - Shepherd and Wedderburn, for example. On the left we have a page taken from their trust account audits. If I could draw your attention to... these dates... '
His finger rested. Watt absorbed columns, numbers. His brow furrowed and he snapped upright.
'Look, I think I'm going to - you told me this was a wee chat, and now you're... should I have someone here? I think I should have someone here. You're making me... I'm getting a bit worried here. This is real specific. I don't want to be accused of... however my name's come up, I deal with... I deal with a lot of complex accounts, a lot of big accounts, and I don't want to be... you understand how much of this stuff passes through? And you're asking me to try and... '
Gillis raised his hands. Hay pushed his mug to the side and placed his palms down on the table, announcing himself.
'Like DC Gillis said, we're just trying to tie a few things together. I understand what you're saying. I'd be the same if I were you. But that's why we decided to come here. A bit of peace, no nosey colleagues. Sort out a few loose ends. A few anomalies. We're not up to speed on the whole file yet. This is just initial stuff, separating the fluff. It'd be irresponsible on our part not to look at them.'
Watt chewed at his thumbnail. Gillis moved his hand to the second sheet of paper he'd removed from the stacks.
'If we could look now at the corresponding dates here. The transactions you processed. This one, under Shepherd and Wedderburn. It appears here, and yet - if we look back - it does not appear under the relative dates in the company audits. Are you able to - '
'I didn't make this available.' Watt's face had paled. 'I didn't agree to this. How did you - what's going on here? I didn't agree to this. You told me this was - what exactly is being implied here? Do you know how many - '
Hay rested his elbows on the desk and leaned in. Gillis sighed and sat back. He looked out the window. The car park was littered with leaves. He felt a twinge and an urge to be out of the room. He blinked slowly, tried to weed out the automatic thoughts. He reached for his mug, remembered the green tea and pushed it away again. 
Twenty minutes later Watt was hovering near the door. He pushed his glasses up his nose and jabbed his finger at them.
'This is a disgrace,' he spat. 'A disgrace. I can't believe the - do you know the pressure I'm under? Loan requirements? And you've... you've dragged me here, and you're coming at me with... this, with this... drivel. It's crazy. It's a disgrace. I have to contact someone. I have to... '
Hay had stood. He was pressing his palms down as if to press calm into the room.
'Alright, Mr Watt. We completely understand. We do. Thanks for your time. We appreciate it. We didn't mean to cause you distress. We'll be in touch.'
Watt stewed and fumbled with the door handle. Gillis leaned across the desk and stopped the tape. He stood and smoothed his tie.
'Andrew Watt, you're under arrest for fraud and embezzlement. You have the right to remain silent. Anything you do say... '
*
Gillis drew the chain over the lock and slumped through to his living room. He dumped his bag by the coffee table and fell into the sofa. He allowed his head to swim for several minutes. He was always tired these days. Always tired. Reaching down the side of the sofa, he pulled up a bottle of coke from the mess on the floor and shook it to gauge the fizz levels. Colour, too. He might have pissed in it when he couldn't be fucked going to the toilet. 
Bubbles frothed. Content, he leaned over the coffee table and shunted a stack of grimy plates to the side, freeing up a square of space amongst stained mugs. He shook out the sertraline and the temazepam and washed them back with coke. He took a last look at the tip around him. 
Piles of unwashed clothes. Sheets of paper. Plates crusted with moulded food. At times he remembered his mother's last years, and the parallels were not lost on him. Maybe that's what it was. Heritage. A shrine. 
He lived mostly in his living room now. The smaller the space, the better. It was closer to the toilet, too, and it scared him walking through the flat at night. He'd been sleeping with the light on for twenty-eight years. 
The bulb had died in his bedroom lamp several years ago and he'd never got round to replacing it. He'd moved his duvet through to the sofa and that was that. Initially it felt a bit like camping. He'd quite enjoyed the novelty. It was the biggest change in his life, outside of work, for a long time. He'd stayed. Everything was close to hand around the sofa. Medication. Crisps. Juice. Laptop. Tissues for jacking off. Bottles for pissing in. He rarely had to move. 
Lying back, he pulled the duvet over his shoulders. He wriggled to position his legs comfortably over the armrest. He closed his eyes and started to feel guilty for neglecting to brush his teeth again. He lay for a while longer, but it niggled. His mouth tasted of coke and cigarettes. Throwing the cover off, he trudged through to the bathroom.
Post-brush, he gurgled mouthwash and spat. He stared at his face in the mirror. His head needed shaving again. His widow's peak was growing fuzzy and conspicuous. The beard that had been softening the blow for twenty-five years was still wispy, underdeveloped, and unkempt. He looked at the dark lines underscoring his eyes and felt selfish. 
He didn't want thirty years. He didn't want forty years and he certainly didn't need fifty. He was just being selfish now. His eyes caught the grubby white tiles around him in the mirror and he felt a rush of panic. 
The bathroom was a different place and he didn't spend so much time here. Everything felt momentarily tight and close. Restrictive. The short hallway between the bathroom and the living room was dark. There could be anything there. Anything outside the flat door.
He paced through the hallway, stopping by the front door to check the lock, check the chain. He peered through the peephole and checked the stairwell, the steps visible within the wide angle lens. It was the same every night. He scurried back to the sofa and pulled the duvet over him, tugging the lamp closer. 
Tomorrow was a good day. Friday. Let Watt stew for the weekend. Arrange more interviews. Work to further discredit him. Type up reports. He only had to be around people for four hours. That was just a three-propananol day. 
He tried to sleep but he kept turning. His eyes kept snapping open. He moved to reposition the lamp constantly, monitoring its spread on the ceiling, the watery spotlight staving away the dark.