Pins (3)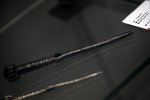 Mon, 29 Jun 2020
Inverness, Scotland
2037
A single point. A speck, a subatomic seed, a sliver smaller than a grain of salt. A singularity. Everything we have ever known compressed into a tiny volume of infinite density and white-hot heat. 
Four trillion degrees Celsius. Two-hundred and fifty-thousand times hotter than the centre of the sun. 
A white storm. Incandescent. Blinding.
A sonic surge. For the span of a single second there is a burning furnace of neutrons, electrons and protons. Then: swollen waves unfurling, faster than the speed of light; a violent distribution of frequencies, colour spectra rendered a luminous molten rush tinged with cerulean sparks. Particles zipping, careening and smashing into each other; decaying into a foaming, muddy plasma of quarks and gluons. Photons of trapped light pinballing between hot particles, their scuzzed streaks a phosphorus spiderweb. Cumulatively the bounce appears as a seething, candescent cloud of radiation.
This molten kernel blooms and expands. Although still furiously hot, its temperature drops to such an extent that the fizzing elementary particles slow incrementally, and are bound into nuclei, forming a gas of hydrogen and free electrons. Light is still a crystalline maze, scattered by the free electrons and protons, unable to break free from the primordial plasma. Frenetic interactions, soaked in and obscured by this amassed radiation, lead to bubbles of nuclear fusion. Protons and neutrons merge to spark heavy hydrogen into existence; in turn, these atoms bind to form helium. The flowering storm, driven in its expansion by temporary dark energy, is top-heavy with positively-charged nuclei. The heat remains too intense for electrons to be ensnared. 
It takes three-hundred and eighty-thousand years. The spread and cooling levels the maelstrom of matter collisions, and allows these initial hydrogen and helium atoms to finally combine with the free electrons, and form neutral atoms. Light is freed from its millennia-spanning prison to travel in luminous streams throughout the nascent cosmos. These unbound photons traverse the expanding universe for millions of years. Within the cooling surge around them, matter clumps, and stars are born. Fledgling galaxies unfold.
Like a shimmering birthmark, this glowing imprint of original light is still detectable in the form of the cosmic microwave background; electromagnetic radiation, soaked throughout the universe over the course of billions of years, traceable with far-infrared and radio wavelengths.
Events set in motion within a trillionth of a trillionth of a trillionth of a second, 13.8 billion years ago. Superdeterminism argues that every single subsequent measurement, every single subsequent event, was decided by correlations established during this primordial storm. 
She had been here before and would be here again, in every lifetime to come. 
Sophie watched the fluorescent tubes set in the polystyrene, tiled ceiling, and thought of that original cosmic soup. Those first freed photons, flowing ribbons streaming through the void. The light here was abrasive, illuminating the pale blue walls, the slate grey floor, the plastic chairs, the various health posters and leaflets tacked to a noticeboard. 
The automatic sliding doors to the left of the reception desk hissed, and a woman with a stethoscope around her neck stepped through and approached the waiting area. Sophie rose in response to her name being called, and followed the woman back through the doors, down the sterile corridors, past the curtained cubicles, past countless hand-sanitiser dispensers, past numerous white plastic directional signs: X-Rays. Radiotherapy. Oncology. 
*
She threw her sandwich onto the empty seat beside her and checked her phone messages. Nothing. She glanced at her reflection in the rearview mirror. Her dark hair was scraped back into a ponytail. Several loose strands fell over her forehead. Her eyes looked sunken and red. She looked away and rubbed them. Sleep was a rarity these days. All in all, greasy, unkempt and shattered. Maybe she should have looked in the mirror before the appointment. Coping well, she'd said. Screw it. 
Rain spattered the windshield as she pulled out of the hospital car park. Beyond Inverness, the roads were empty. Skeletal trees groped from the roadside. She drove past a string of lonely houses, blockish silhouettes in the fields beyond. The wipers scraped webs of rainwater over the windshield. She fell into a sad trance. The white lines were soporific as they unspooled before her, and she felt herself choking and welling up. 
These sobby interludes were coming on with increased frequency. Better to work. Get the fuck away from towns, hospitals, groups of people, bright places. You can't fight your own nature and you can't fight nature in general. You are a scattered photon, trapped in a positively-charged primordial plasma.   
She crossed the Kessock Bridge across Beauly Firth. The terrain became increasingly remote and alien as she approached the north west Highland coast. Moorland. Rugged peaks. Hairpin bends. 
The old farm was located in a small hamlet called Ardarroch, near the Applecross peninsula and at the head of Loch Kishorn. It was remote, but she'd wanted remote. Even before the bad news. She pulled off the road and onto the dirt track running through banks of trees up to the farmhouse. The empty fields surrounding it were bordered with a rickety chain-link fence, and beyond the fence the loch lapped at stretches of sand and pebble. 
The view was one thing. The peace was another. But the spacious, run-down barn was the clincher. She wanted to work through it slowly, methodically. To be able to visualise it, step-by-step. Notepads, tablets, offices and coffee shops: they'd run their course. Better to map it out in the remote parts. Additionally, the isolation provided security if it all turned out to be a fifteen-year crock of shit. Again, better to go stir crazy in the remote parts. Better to die in the remote parts. 
She killed the engine, retrieved a torch from the glove box, and stepped out into the cold. The barn was nestled in a copse south of the farmhouse. A smattering of stars were thrown up amongst the inky sky. They blinked through puzzlebox branches as she slipped between the trees and approached the wooden building. She passed the keyfob over the sensor and eased the doors open.
The barn stretched up to a peaked gambrel roof, locked in place with heavy wooden beams. Rolls of chicken-wire mesh were stacked near the doors. Clumps of moldy hay that she'd brushed into the corners looked like collapsed, plague-riddled scarecrows. The windows were boarded up haphazardly. A cold breeze sent flurries of dust dovetailing over the scraggy hay, and the entire building seemed to shake. 
Sophie removed her shoes, circled the floor and clicked on the four portable heaters, each connected to an extension cord running back to the farmhouse. The portable floor lamps were on tripod legs, and she turned these on too. 
The rain was a kinetic rattle on the roof. The hot draft from the heaters loosened an A1-size sheet of paper on the wooden floor and she cursed, treading softly over the assortment of sheets and placing the loose corner back underneath a secure stone. She sunk down to her knees and smoothed the paper out. There was a long, multi-step equation written in black marker pen on it - around sixty steps, she thought, at a glance. 
She stood up and turned in a circle. The barn was warmer. She loosened her scarf. The wooden walls and floor were covered with large sheets of paper. The sheets on the floor were pinned beneath stones, beginning several steps in from the front door and continuing to the back wall. 
Prominent, scratchy black arrows on the corners of the sheets guided her on a visual path from the barn entrance, turning left to right along rows to the back wall; from there the arrows scaled the walls, again turning left and right, moving around the barn. Every sheet was filled with dense, multi-step equations; endless terms, endless variables, endless fractions. 
She coughed and reached for a bottle of water. She unscrewed the cap and spluttered. The coughs came quick and fast, and she felt herself growing dizzy. The intercom buzzed and she flinched and drank from the bottle, trying to compose herself. She stifled welling coughs, wiped her eyes, and stepped over the sheets of paper to the monitor by the door. A hazy moustache bobbed in the small screen and she smiled and touched a button.
An old man stepped through the wooden doors and nodded to her. He wore a thick sheepskin jacket over his suit, and the effect was oddly regal. A chill breeze blew in after him.
'Still holed up?' he wheezed. 
'Still holed up, Alisdair,' she said. She moved to close the doors behind him and touched him lightly on the shoulder as she passed. He ran his fingers through his thinning white hair, placed his briefcase on the floor, and slumped down on an upturned crate.
'Why do you persist in working like this?' he said, squinting up at her. 
Sophie looked down. Alisdair's face was tired and worn, but his eyes were still bright.
'I just find it helpful,' she sighed. 'I like to be able to see everything mapped out.'
Alisdair cast an eye over the sheets of equations. The floor lamps hummed softly.
'How far off are you?' he whispered. 
Sophie's lips thinned. She sat down on a clump of hay beside him. She looked up at the walls. Fractions and variables blurred before her.
'I believe it's done,' she said. 'But I keep coming back. Keep checking and rechecking. I'm not quite ready to let it go.'
Alisdair grumbled and folded his hands together in his lap.
'You're obsessive,' he said. 'You need to see other people. It's not healthy. Even if you think you don't, you need to see other people.'
Sophie ignored that one. She ignored the thoughts it prompted.
'They'll be here like a shot,' he muttered.
'And there's that,' Sophie said. 
They sat in silence for a while. Alisdair shifted uncomfortably. 
'Does it not frighten you, sometimes?' he said. 'These things... tachyons, negative matter... these are substances we hadn't even seen or produced until a few years ago. I mean, phones got smaller pretty quickly, but... I don't know. It just seems like a furious rush. A furious rush.'
Sophie watched as a sheet of paper was whipped away by the heaters.
'You know, I remember crying when I couldn't play 'Twinkle Twinkle Little Star' on the piano,' she said. She drank from the water bottle and stifled a cough. Alisdair frowned.
'You've taken up piano?' he said.
'No, when I was a kid,' Sophie laughed. Alisdair exhaled slowly and nodded.
'And you think this is the 'Twinkle Twinkle' of your adult life?' he said.
Sophie brushed a strand of hair from her forehead.
'No, it's not like that... ' she said. 'I just thought of it, that's all.'
Alisdair lifted his briefcase up, thumbed in the combination on the lock, and flicked it open. He lifted a laptop out and opened it. 
'You'll want to see the latest?' he said. Sophie smiled up at him and rested her head on his knee.
Alisdair moved his fingers over the keyboard and pulled up a grainy image. Sophie lifted her head and peered at it. It was hard to make out. It looked like a monolithic rectangular structure, floating in a sea of darkness. She felt a shudder run through her, and abruptly she was crying. She lifted a hand and closed the laptop screen. Alisdair hung his head.
'I understand,' he breathed. 'I feel this way often. It's absurd, but I often think it feels like the end of everything.'
Sophie sniffed and wiped her nose with a handkerchief. 
'I suppose that's the way with something new,' she said. 
Alisdair sat with his hands resting on the laptop and looked through the washy lamplight. He stroked his moustache.
'Remember when it was just a dip in the graphs?' he said. 'Flux?'
'Something blotting out the light,' Sophie said.
'I think I enjoyed that phase more,' Alisdair muttered. 'Theorising. Running through the different natural phenomena. Asteroids, a swarm of comets... some kind of collision... '
He turned his head away from her. Sophie picked her water bottle up.
'Do you remember the corridors?' Alisdair said, quietly. Sophie removed the lid from the water bottle, lifted it to her lips, and paused. The question hung in the air. She turned it over in her head, but it made no immediate sense to her.
'Pardon?' she said.
When Alisdair looked back round, he seemed more tired than ever. She had always thought of him as a strong man, a leader, but he looked old now.
'Well, perhaps a celebration is in order,' he said, slowly. Sophie shivered and pulled her jacket closer. A great sadness drew down on her.