Priyatelka, Turlough and the House of Cats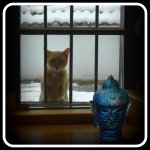 Tue, 04 Jan 2022
3 likes
She was sleeping in a gas station, south from here on route E85.
I asked the pump attendant, 'You think that little feline's still alive?'
He said 'Came in a week ago. Sharenka is her name.
It's the local word for colourful. She's thin but very tame.'
So I put her on the back seat and she became the first of all our cats.
The Gypsy standing at our door had something small and moving in a sack.
A tiny ginger kitten. I held him up, said 'cute' and tried to give him back.
He said he needed money to take home to feed his wife
So I gave him twenty levs and took the cat to save its life
And that's when Borislav chose to be the second of our cats.
The girl that lives across the road asked us if we'd do her a good deed.
She had a kotka two months old that needed shelter, love and a good feed.
Such a gorgeous creature, we just couldn't have said no.
He looked a little crazy so we named the cat Ludo
And turned to take him in our house to meet both of the other cats.
Before we'd gone a single step she said 'I've got his little brother too.
If you could give them both a home, then that would be the decent thing to do.'
We ummed and ahhed a little bit before we both agreed.
We named him Mitso like the Tsar from the thirteenth century
And then we wondered what we'd done, surrounded in our house by cats.
The sunny days behind us, replaced by icy rain and wind and sleet.
Three scrawny cats were playing and a lookin' all bedraggled in the street.
We said that we had quite enough, we couldn't take no more.
Priyatelka put food in a box and left it on the floor
So they could fill their bellies on the path behind the house of cats.
A week passed by with the cats looking no better than they'd been.
A blizzard saw the gauge hit minus ten or even lower at fifteen.
The black and white one cried to us 'Won't you kindly let me in?'
The door unlocked, he stepped inside and his brother followed him.
Curled up by the fire. Welcome to the house of cats.
The next thing that we had to do was give these tiny animals some names.
The ringleader was Jimmy. On Sundays he would probably get James.
Sharkey suits the other one with the ginger patterned fur.
He didn't seem to care too much. He just sat and gently purred,
As we tramped up and down our lane, searching for the other little cat.
Enough to freeze the coffee pot, whiteness came and covered all the ground.
We shivered as we called out 'Puss!' but the poor little bugger wasn't found.
We fretted for the missing cat 'til it was time for bed
And then we lay awake all night thinking it must be dead.
A frozen lifeless body, not huddled up with all our other cats.
Five days later I was scraping last night's snow off of the car.
In the wintry silence I heard a little cry come from afar.
I turned around, looked up the hill, saw a miraculous sight.
The shivering and soaking wet pathetic little mite
Ran and jumped into my arms, aching for the house of cats.
Priyatelka gave a shriek of joy to see our friend come in out of the cold.
Despite the state that he was in she took him warmly in her hands to hold.
We called him Sam cos that's the word they say here for alone.
We dried him, fed him, hugged him and said 'Hi Sam, welcome home'.
A precious new addition to our ever growing pride of cats.
As time went by we thought all our cat rescue days were in the past.
Then in the town in freezing rain a street of cars all driving far too fast.
We met a little ball of fur outside the burger bar.
We picked him up and cancelled lunch and put him in the car.
The latest new addition. Not much room left for any other cats.
When you've got as many cats as us it gets quite hard to find them all a name.
It's quite a possibility that two or three will all end up the same.
So we called the new boy Osem cos in our country that means eight.
And before we get another one it's going to have to wait
Until we've got a vacancy here at the house of cats.
We love our feline family, even though they often seem to drive us mental.
We've also got two street dogs who wish the cats were only here on rental.
But the cats and dogs and people in our house get on quite well
We all have our own jobs to do and the cats they do repel
Our rural vermin problem by killing all the mice and rats.
---
Image:
Won't you kindly let me in?
Created by me.
Explanatory note:
Noticing from my comments on ABC Tales that my house contains more than the average number of cats, our friend Di_Hard recently challenged me to write a poem about them all. I find challenges as difficult to resist as abandoned cats so I thought I'd have a go. My partner (Priyatelka) and I have eight of these feline fiends in our home so I realised straight away that the poem would need to be a lengthy one. To make the job a little easier, I borrowed the rhythm and style (but not the lyrics) from Bob Dylan's epic ballad, Lily, Rosemary and the Jack of Hearts. If you know the song you could sing along, if you don't you could just read the poem and either way maybe it's just too long for you to be bothered with. I hope the result has met the challenge.