Black Cross (Chapter One)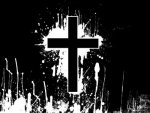 Mon, 15 Jan 2018
Extract from The Fortford Times, September 31st 1978
"Serial Animal Killer" Strikes Again
Deaths of up to 30 cats found decapitated in Blackcross and Chapel are being investigated by local Police.
It has been suggested the deaths are the handiwork of one individual – named the Butcher of Blackcross by residents. More than 40 cases of beheadings have been reported, the first occurring in 1981 and have also included rabbits, chickens and a fox cub. A vet, who wishes to remain anonymous, revealed that of the 18 carcasses he examined, he had been able to link 12 of the deaths. "Blood hasn't been found at any scene," he said. "I believe the perpetrator is capturing the animals, taking them somewhere simply to torture and dismember them. And then the remains are placed where members of the public are likely to find them."
Dr Joseph Niven, who works within the dangerous and severe personality disorders unit at HM Prison Fortford in Tayside, said this extreme form of cruelty to animals strongly suggested the work of a sadist. "There hasn't been a glimpse of the killer, but it seems like the type of person who plots and derives pleasure from thinking about the suffering they are going to inflict. What happens when people are sadistic, like any kind of addiction, they often have to go further and further to satisfy their addiction…"
CHAPTER ONE
She had come here in a moment of desperation, searching for something mentioned in storybooks called hope. But it wasn't to be found. It had been here, of course. She could sense the ghost it left behind, knew its name: despair. The girl didn't know a lot of things, but she knew you couldn't have despair without once having hope.
The room she found herself in was remarkable only for its ugliness. Patches of mould rendered the walls and ceiling into a gigantic Rorschach test. A couch and matching recliner, both riddled with cigarette burns and milky stains, were the only pieces of furniture. The previous owner had left tools, dumped in a bleeding-rust pile. If this didn't seem homely enough, there was also the prevalent stink of cat urine.
The girl wasn't concerned. The semi-detached house had been picked purely on the basis of necessity and not materialistic means. She was lying across a threadbare rug, still as a corpse on a mortician's table. Eyes wide and unblinking, staring into some faraway place. Everything was still within the space apart from the atmosphere. It held a prowling-dog kind of energy, a whisper of something watching in the background. Something willing to snap just when the moment was right.
Only now did the girl move.
Fingers tapped against the floor, mirroring a heartbeat. Boom-boom, boom-boom. She wasn't prepared for the onslaught she knew was coming. Had to try and divert attention. Concentrate on the here and now: fingernails clipping on floorboards, cold prickling across a body wasted of colour.
("I'll protect you. Cross my heart. Hope to die. Stick a needle in my eye!")
Focus. She had to focus. But the memories came flooding back and she could smell him; a mixture of cookies and apple juice and, much later, blood. Could picture him with his curls of golden hair and caved-in head, hand outstretched, searching for her.
Her skin felt too tight now, something stirring beneath the surface. Stretching. Yawning. She could taste bile, sour and fever-hot. Threads of dark smoke crept into her vision. Thoughts – things that may have been hers, or not – entered her mind. Horrible, black as hell.
It was pointless. Always was.
Then it came to her: the power drill.
She fished it from the tool pile, flicked the power button. Waited, imagining bated breath. Green light bloomed into existence. Her mouth twitched. Splintered bone, ruptured brain matter. She was going to let all the dark thoughts drain away. Watch them and be free. That's what she wanted, wasn't it?
She placed the drill at her temple, trigger finger resting on the button –
("Hope to die.")
–  about to apply pressure.
Then the doorbell rang.
The girl answered to a man-boy, maybe no older than sixteen or seventeen. She peered out a seven-inch gap, keeping the security chain in place.
"What do you want?" she said, voice thin with impatience.
"I'm really sorry to bother you. I'm collecting money on behalf of Johnson Memorial, for people who don't have much this time of year. Would you care to donate?"
She didn't reply, watching him warily. The man-boy's cheeks were flushed and rainwater beaded his hair.
"Johnson Memorial," he repeated after a moment. "It's a church in Glasgow. We're organising Christmas dinner for the homeless, people who're on their own. Buy presents for the children. I understand if money is tight this time of year—"
"Wait here, please." She said, closing the door in his face.
There was a glass jar in the kitchen. The girl had spent every night since coming here counting out its contents, all eighty-eight pounds and twenty-four pence worth of loose change. It had initially been done in a bid to distract herself, but the act had taken on a life of its own, becoming a compulsion she could never seem to pacify. She'd be glad to be rid of the jar.
She returned and removed the chain, opening the door wide to the world.
"Cool T-shirt," the man-boy said.
She looked down. Grey material rested above candle-white knees. The words FRANKIE SAYS RELAX were splayed across the front. She didn't know who Frankie was. Nor did she care. She'd found the garment behind the boiler and had thrown it on only for the sake of modesty—not that such a thing was of personal concern, either. She placed the jar beside him and stepped back. "Take it."
"I can't."
"Yes, you can."
"It's too much!"
This was the part where the man-boy was supposed to take the donation and leave, but he didn't. Instead, he gave her a look that implied he was trying to work something out. Maybe a particularly difficult mathematics equation.
"Do you live alone?" he asked.
She nodded.
"Why don't you come?"
"Where?"
"For Christmas dinner."
She didn't know how to respond, but it didn't matter. The man-boy became more animated, said his name was Tommy and handed her a leaflet, detailing where the church was located. She could come and help if she wanted. He'd be there so there'd be at least one friendly face and besides, it would get her away from here. He'd emphasised the last word but she didn't know why.
A security light came on, pooling blue around them. Fine snow drifted through the air.
"Aren't you cold? Tommy said.
"No."
"You're something."
"Yes," she replied. "Yes, I am."
"It doesn't bother me, either," he said, breath misting the air.
The girl looked down. His hands were raw pink, matching his cheeks. She didn't know much about this place, but Tommy did. He could tell her. There wasn't heating in the house or warm food she could offer, but she had come across a jar of coffee in one of the cupboards.
"Coffee," she said. "Would you like some?"
He smiled. "That would be great."
She returned to the door a couple of minutes later with a mug of something resembling tar. There wasn't any sugar and the milk she found resembled cottage cheese. Tommy was sitting on the doorstep. She passed the drink and looked down the street, along the liquorice-whip road and across the deserted football field. She crouched behind him, balancing on her toes.
"Can I ask you something?" She said quietly.
"Yeah."
"What do you know about this place?"
"Not much," he admitted, sipping his drink. "My grandfather was from here. He used to work at the railway station, said it was as good as any place to grow up. But things change and sometimes places like Blackcross get left behind, I guess."
Blackcross. She digested this, watching the tendrils of steam rise from his mug, unfurling in the night air. She was hesitant to ask her next question: "Do you think bad people are drawn here?"
Tommy wiped his mouth with his sleeve. "No, I don't. People get restless. There's nothing really here for anyone, not anymore." He said, turning to face her. "What about you? You just… I don't know, seem different. Lost or something."
She could feel his warm breath across her face, could see the stubble curving around his jaw like iron fillings.
Don't.
The small space between them became heavy. Charged. Pain coiled inside her, tight as a spring. A line had been crossed and it was all her fault. Without another word, she stood and drifted back inside, down the hallway and into the sitting room, stopping at the threshold of the kitchen.
"Hey," he said. "Wait! Your money!"
But his voice sounded tinny and faraway. It was all smoke and dark thoughts now, clouding her head, clouding everything. And then she could hear him somewhere behind her, coming into her space uninvited.
"You live here?" Tommy choked. "Where are your parents?"
"Stop, please."
"Okay." There wasn't a trace of annoyance in his voice, just confusion. "You can't stay here though, not like this. I know people. I can help. What's your name?"
"I can't tell you."
"How come?"
"I just can't."
"That's not an answer."
"I…" The floorboards creaked and the girl felt as if she'd been impaled with an iron spike. "Don't move."
But Tommy had already taken another step.
The girl's fingernails cut little half-moons into her forearms, drawing blood. "It's too late now," she said. "If you run it'll only trigger something inside me and then you'll leave me with no choice. I will chase you and I will kill you."
"Like a wolf?"
The girl didn't reply. She was trembling all over.
Tommy was oblivious. "You have a weird sense of humour." He took another step. "What's your name?"
She could smell him now, could feel the warmth secreting from his skin like a toxin, rushing over her, ruling out rhyme and reason. And then he made his final mistake as he reached up tenderly, his fingers brushing the thick band of scar tissue around her neck.
("Ebony.")
The dark smoke swelled and she couldn't see or feel or hear anything. There was nothing. She was nothing. And then there was a shrill noise in her head, like somebody had replaced her brain with the power drill. And then Tommy screamed, the sound disappearing—or becoming one with? — the drone.
When the dark smoke lifted, Ebony saw the terrible thing she'd done.