the dude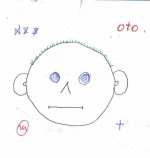 Sun, 27 Sep 2009
1 likes
Psychologist: "What is the trouble?"
Patient: "It's my memory."
Psychologist: "And when did this trouble start?"
Patient: "What trouble?"
>
This dude came walking into the pub his head shrunk the size of a tennis ball no neck just shoulders flat and the little ball. Bit of fuzz…
His buddies shocked "Hey what happened Willy!!?"
"No man I was walking on the beach I checked this buggered up oil lamp thing. Picked it up shined up a bit check out my looks. A genie pops out! What a beauty!!"
She said:
"Three wishes Sir!!"
"I want a banquet, I want a feast for a king!"
Tables laid out with tropical fruits, punch, ice oysters crab and lobster.
"Sports cars, a Lamborghini Countach and a Ferrari!"
Out of the box! Shining! Yellow and Red!!
"A fuck!!?"
"Forget it"
"Pleeeeaase!!"
"Get lost"
"Aaaaaww!! Can't I have just a little head?!"
> >
A man jumped from the roof of the Empire State building, passing forty stories he said:
"So far so good!!"
>
"We buried the bastard six months ago."
"Oh, I'm sorry to hear, what was wrong with him?"
"He was dead."
> >
Two tramps on a park bench, the one:
"If yon tree doesn't fall on my head I'll live 'till I die."
>
On the park bench,
"There's a nip in the air!"
"Where where??"
>
Two drunks, the one:
"If a man cannot drink when he is alive, then how the hell can he drink when he's dead?"
> >
A yuppie stopped at the garage in his sparkling new luxury sedan to fill up with petrol. Two golf tees fell from his pocket.
The attendant: "What are those for?"
"To rest my balls on, when I drive."
"Unreal! These new BM's have everything!!"
>
What is a "specimen"?
It's an astronaut from Soweto.
> >
A rich old man was to marry a twenty year old girl. She insisted he go for a thorough check-up.
Doctor: "You're in good health, but you know that sex can kill you?"
Old guy: "If she dies she dies."
>
"What do you wear in bed?" Marilyn Monroe, "Chanel No. 5"
>
"Tell me, my son, what must one do in order to be absolved from sin?"
"Please Father, one has to sin."
> >
Oom Paul was asked to what he attributed his advanced age:
"I suppose I must attribute it to the fact that I haven't died."
> >
What is "a university"?
It is a fountain of wisdom where students go to drink,
Where false pearls are thrown at real swine!
>
"Why are we not all there? Because we're all here!"
>
And, after sitting through a particularly boring lecture,
Prof Einstein:
"I've just developed a new theory of eternity."
> >
So it's the final exams!
If all else fails chew your pencil!!
There was a young man from Tuckit
Who's cock was so long he could suck it
Rubbing his chin he said with a grin
If my ear was a cunt I would fuck it!
> >
( Every one each is queer, save me and thee. And even thee…