00 (Double Zero)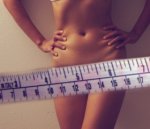 Mon, 17 Mar 2014
She is starving on a diet of broth - desperately
devouring the contents of her fridge in a morning.
Stuck in a binge-purge cycle. Yo-yoing.
Guiltily shovelling bland grains of quinoa,
into her yearning mouth, while her shrinking stomach
groans pitiful protest.
She is disciplining her wayward body with a regime
that exhausts and drains, while it firms and tautens.
Cardio boot camp and dates with her personal trainer.
While at home, her boyfriend recalls the birdcage
of her ribs with a shudder and longs for the comfort of
her old upholstery.
She is breathing ketones over repulsed colleagues,
they note her lack of vitality and her once sharp
memory made flaky, by self-obsessed abstinence.
Fat-burning lemonade with cayenne pepper, sours
the yawning hollow, where her acidic furred tongue
gags on bitterness.
She is fixating on her own faeces, an enema addict,
watching lumps of matter pass along the tube -
flushed out, cleaning her from the inside of unwanted.
The hard nozzle in her anus, sharp reminder of suffering
to be slender.  She feels joy painfully as the scales
register her loss.
She is calculating the cost in calories of last night's
white wine spritzer, which led one thing to another -
her on the floor, smeared shameful in self-induced
vomit. She purges, pukes, sneaks laxatives – her heart
weakening, her will winning. Don't eat. Be perfect.
Empty is strength.
She is eyeing images of pro ana bloggers, enviously
for thinspiration – air gaps between thighs, hips sharp
as axe blades, honed and planed, their bodies starved
to angular. Clavicle ledges, bumped and ridged red carpet
décolletage. She aims for the stars – double nothings
are her target.
She slims to be
newly pre-pubescent -
the path of womanhood,
reversed, dress sizes
dropped – hunger
conquered.
Her
goal
is
super-
skinny.
00.