Mynydd Carningli (for TP's parents)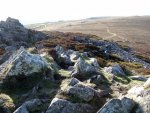 Tue, 01 Apr 2014
1 likes
Bent double to lace dusty walking boots. Unused a year,
my hands yank familiar leather.
Our son ready on the worn green sofa, when I catch your glance,
packing waterproofs for September in Preseli Hills.
A cool mist will be around Mynydd Carningli.
I carry our darling gently out. Leave dried mud prints on the drive.
Jangle car keys, pass him to you.
Balanced on your knee.
In silence, the road spools through lemon-sharp light,
a heron slow-flaps an updraft
above a dead fox in the gutter.
We park and pay for the privilege of pilgrimage.
 I lift him into the old backpack. Tighten straps. Snug as a bug.
The heft of him where he'd once rocked and kicked.
We head into soaked grass under skirling larks
choiring the Blue Mountain of Angels.
Wasps and midges circle; a hare bounds by Afon Nyfer
plush with salmon, sowin and trout; the diving flicker of a kingfisher.
Out beyond ancient woodlands, Bronze and Iron Age forts; the river bleeds into reed beds.
Oyster catchers and sanderlings pluck estuary mudflats tugged by the Irish Sea.
Up, where ragged crows and amber-eyed sheep; inhabit Stonehenge's indigo rocks.
St Brynach once fasted here; shrived for serenity in sandals and sackcloth.
Our breath, in Gortex and boots, labours through scouring wind.
A veil of rain pours from bruised clouds cut loose across Cardigan Bay.
Where he'd thrilled at scuttling crabs and starfish in the palm of his hand,
while we built sandcastles and wiped his ice-creamed lips.
Grains of sand slipped through our hands then,
to these heather-pelted hills that melt and rumple.
Velvet lichen and moss, soft beneath our feet.
Shadows float over cairns while we pick a stone; lodge it,
careful not to crush fading flowers vased in rock,
or rain-felted messages, vaulted in memories crawlspaces.
Wind rises and threads us to where gulls peel into sky.
Upon glacial-smoothed slabs I gentle our son into my arms.
Unscrew the urn. Touch the oxidised grit of love.
Fling him to the wind-cradled sepulchre.
For a second, he is tugged, suspended.
Dust spirals away and loaded particles hail down:
a scatter-clatter that makes the hairs on my neck rise.
His dust seals my palms' creases; blackens nails.
He feels close as the scent of his unwashed clothes as we cast him
to the shadow waltz of moon and stars over Mynydd Carningli.