THE SEEDS OF PEACE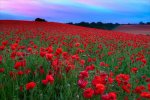 Thu, 24 Apr 2014
In ancient times sweet flowers grew
White as the snow, fresh as the dew;
They wove them into garlands then
For maids to wear on long fair hair when
Barefoot they walked through misty woods
And promised to keep faith, be good
To bridegrooms in the morning air
Before the priestess standing where
With gnarled green branches arched above
They vowed their everlasting love.
Years passed; the flowers bloomed again
But blushed to see the sins of men
Who lied and cheated, hurt and slew
Any thing, or beast, or person who
Dared to gainsay their opinion
Or rail against their cruel dominion.
Now pink-flushed as those maids of old
In leafy shawls, those blooms grew bold
And scattered ripe seeds far and wide,
No longer felt the need to hide.
A cold wind blew across the land –
The flowers tried to understand
What was this smoke, this noise, this fire
That reeked of death, and the funeral pyre?
That banged and cracked; the awful sound
Of pain and chaos all around?
Heads bent in sorrow, they could only sigh
As they watched a generation die
And as they saw each sad day dawning
Their seeds turned black, as if in mourning.
One hundred years have passed, and still
They thrive in cornfields, and on hills
Where once the earth was stained blood red
Stiff with the bones of the glorious dead
And the cold air echoed with the noise
Of Lewis guns, and dying boys.
No longer pink, nor white as milk
But clad in robes of crimson silk
Brave poppies grow for evermore
Lest we forget the price of war.