The Discovered Unartist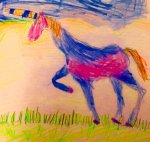 Wed, 07 Jan 2015
1 likes
When I was five, or four,
I drew like a child, 
and though I've since tried,
I find that I can't any more.
I can still draw, 
but the lines are refined 
to the point that I've lost 
the ability to see what I saw
age five, or four, when I burned
with powers of invention 
which lasted the blink till I grew, 
and unknew all I'd learned.
Sadly lost - spurned -
the artist I was in the days 
when I longed to draw like an adult -
the tables were turned.
When I was four, five, no more -
I was filled with the spirit 
of freedom that died
when they tried to teach me to draw
like those who deplored
the why and the what
I forgot on the way to the top
and the sadness is raw.