Garbage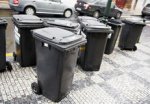 Sat, 04 Jul 2015
total re-write of an old effort
Today is Tuesday, black
bins on the street. Rubbish
displayed in full view making
it easy to find. You can throw
away all things useless.
 . . . Black bins fill up fast.
Next week it's green bins.
You can return something
to society, its for the good
of the people.
. . . Whether they care or not.
Green bins contain useful
garbage. Hard plastic bubble
packs which broke your
nails. Tomato smeared pizza
boxes; sour smelling milk
cartons; plastic cola-bottles
with dead wasps inside and
the very latest in junk-mail.
Today, my black bin overflows
with useless things.
Wasted emotions:
compassion,
anger,
envy,
pity.
. . . and some very soggy tissues.