The Child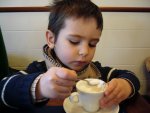 Fri, 11 Sep 2015
I'm sat in the café and a child walks in. Not many children around here, so everyone stops and stares. The child is dressed in mismatched pyjamas. Stars in shades of blue on top and stripy red on the bottom. A mother and grandmother flank the child. It reaches for chocolate bars, squishing them between its fingers before putting the bar back and picking another. More squeezing, more returning to the shelf. More picking, but no one complains.
There are many of us sat down, the café is packed. But no one has a word to say about this small child feeling up all the merchandise. Mother and grandmother usher the child to the checkout. The café is unnaturally quiet, and mother and grandmother do their best to blend in, or at least ignore all the stares. The mother runs her hand over the bald head of her child, and I wonder if it's a girl or boy, it's too hard to tell. There's an androgynous look about it only young children have.
An elderly woman on the table next to me leans over and says, "Makes you sad, doesn't it." She must have seen the tears in my eyes.
"I didn't think they treated children here. I thought they took them to Alder Hey," I replied.
"It's for the radiotherapy." She leans back.
"I'd take on extra tumours if it meant they were cured." I almost whisper the words.
She looks back at me, then nods sagely.
"I would, I'd battle more of them and make that child well again." I mean it, every word, but she's turned back to a woman my age, presumably her daughter. The healthy one by the look of it.
I check out the family as they leave. Mother in front, child next, grandmother pulling up the rear as they wind their way out of the crowded café.
Later my doctor tells me I've got two new tumours. Small ones, nothing to worry about, and I wonder for a moment whether my offer has been accepted. I fantasise that somewhere out there some parents are being told their child is now tumour free. And I hope so. I really, really do.
Photograph by Sergio Maistrello