Breasts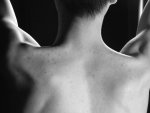 Fri, 18 Sep 2015
2 likes
Comfort place of tired heads -

pillows - not talking pert nipples,

the bouncing fondles for sex, 



but all that too - 

Breasts, so much more,

symbolically speaking, than 

simple flesh, represent



a haven for babies, promised

revelation of girlness, beauty, sensation,

identity, inheritance of womanness -

inconvenience. 



Bind them, strap them 

reduce, augment them under a knife. 

Pad and wire, admire, 

criticize, despise them -

shape and size. 



Press their tenderness

between cold, painful plates - 

irradiate

and feel the fear of finding...

elation at not finding, 

for another couple of years.



Remembered, the curves of love,

cool kissed skin, the scent of mothering.

Breast is best -The milk that burnt 

as it thundered in cascading, 



throbbed as it seeped - let you down 

as it surged and leaked at any 

newborn's lusty cry sucked

in Sainsbury's, but settled to contentment's

quiet remembered moments 

with your own.



More than flesh, than sex, 

than motherhood, 

this symbol of self-symmetry

and completeness

rules the world.



And letting go for the good,

suddenly seems harder for reasons 

beyond our control

than it should be. 



Beginning.