Where the Seabirds Fly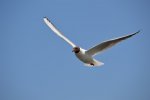 Wed, 14 Oct 2015
'Why can't we reach you?' they asked. 
'Where do you go inside that head of yours?  
You weren't always like this. Not in the past.
Remember? And now we're sick of trying.'  
'You push us away,' said a friend,
who told me yesterday, 'You see, 
it's harder for us  than for you.'
If they only knew.
But I have too much to document...
too much to record...to write down...
too much to recall before I forget...
Lose what little there is left of you,
like moon-dust, filtering through 
my fingers. 
All I can do is to take
one step at a time and yet, where to,
is anyone's guess.
I remember that day at the beach;
you – just turned thirteen. The first time
in a bikini; bashful as hell, you were,
as you undressed
had me stand at the water's edge –
hold on tight to your clothes. I knew,
even then, where you were going,
I could not follow...
no more than I could – the thin,
white line of a petrel, as you sat on the sand 
as I dried you...
your head – shouldered and shy – skin
white – shining the strange light of seabirds
resigned to their own coastal reaches
tossing in their tides.