Oyster Bay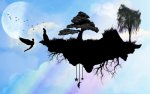 Sun, 18 Oct 2015
Twixt myth and magic is Oyster Bay,
elusive – yet easy to find;
lost, as I was, still it found me
between somewhere and nowhere in time.
Let's go there, right now, down to Oyster Bay
where the sea paints a picture of dawn
with a palette of colours it stole from the sky
and we'll watch as a new day is born.
As the noon-tide wanes, we'll comb the shore
sifting strands of a mermaid's curls;
at the heart of a shiny, black diamond,
find our destiny wrapped in a pearl.
Such a sigh-soft breeze above Oyster Bay
where the water's as warm as the sand is
and we'll dive with the dolphins under the sea
till we find the lost world of Atlantis;
yet, sometimes the sea around Oyster Bay
dons a mantle of gossamer grey
and a hundred white stallions race with the wind
which coquettishly turns them to spray.
So, come – take my hand down to Oyster Bay
where the sea coyly flirts with the shore
enticing her enter his emerald embrace
lest the tide take her back once more.
We'll lie – watch the clouds above Oyster Bay
at the cove where the barnacles are;
if we ask the gulls nicely they'll teach us to fly
have a race, there and back, to the stars...
as, breathless, we'll bask in the after-glow
of a sun that is lingering still, yet sees the moon
changing her white robes for silver
and concedes night's stage soon will be set.
Twixt myth and magic, is Oyster Bay...
write our names with our toes in the sand there,
where pain, pills and potions will have no domain
and we'll stay till it's half-past forever.