A Passing (IP)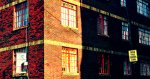 Sun, 22 Nov 2015
Under silent cityscape penumbra
flits a linen shroud in billowing black.
It covers candles and the weeping liars.
Folds away empty sandwich trays.
In a pregnant room he rests,
darkening Polaroid. Posed, cut,
snipped to the inch of Eighties style, curls
once of fire now of ash.
Pilotless, abandoned
vessel, carcass, holding cell,
suffers one more slow effacement, a preparation
by fluid dripping Daliesque
on hollow teak. In the fire halo - hungry echoes,
creaks of wisdom in the yawning flame.
Starlings escape the faceless wind,
to roost in chimney's wombing warmth.
Night arrives to veil the living in
snowed-in limbo. The melting trenches
blink wide, fissures gape, mirrors crack
exorcizing steam from gaping gutters.
He escapes.
Let the dying embers take his face,
his eyes that could ignite the night,
he was my world, creased, composed
once of fire
now of ash.