Winter Storm Awakening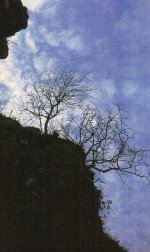 Thu, 07 Jan 2016
Trees perform a merry dance
ushered by the blustery gales;
conducted by billowing dark clouds
that mantle weakened Winter rays...
though haggard limbs may split and crack,
powerful trunks staunch remain upright;
I stand watching...a submissive spectator; viewing
Mother Nature's capacity to overwhelm as I gaze.
Then! Darkness approaches venturing home,
the wind still raving like a soul possessed;
whispering through my letterbox with a rap...rap,
mischievously playing with my wild imagination;
I'll quiver when the candle flame goes out
with each driving rush of cold night air,
squeezing through splintered cracks in doors,
as I reach for the comfort of sleep to dream.