Last Cry of the Fox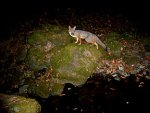 Thu, 28 Jan 2016
Came from the backwoods unable to back-pedal,
no retreating to a world once known...whimpers
for her infants as only the moon hears their cold cries,
she's drawn into the night illuminated by street lights,
Brindled Fox scratches as pointed bristles catch a breeze,
circling like twirling ballerinas neath a canopy of stars,
suddenly! Twitching nerves have got the best of her;
as cats cry like babies...sounding ready for a scrap.
In a fleeting chance moment; I just happened to glimpse
Fox gaze with pointed nose at that Silver lady up high,
resplendent in her grandeur that full moon in the sky...
she hears the yips and drawn out howls of the Vixen's cry,
overcome with frailty as countless vehicles flash by,
once seemed an adept soul both clever though shy;
now fractious with age...forgot a fraternity once strong,
leaning shoulder to shoulder taking care of business not alone,
life for her is running out...one last adventure she embarks on,
tired of struggling – days are numbered no dawn will come...
she won't be tied down ruled by none; no more places to roam,
her last cry for her babies; breathless with age her young now alone.