ALL ABOARD THE EU BUS (IP)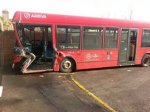 Sun, 22 May 2016
1 likes
Round and round the argument goes
IN or OUT? No bugger knows
What's best for us the great unwashed
With no degrees? What is the cost
Of independence from EU –
If we opt out, what will we do?
All our heads are in a spin
Should poor vote OUT and rich vote IN?
OUT to stop mass immigration –
And reclaim self-determination?
IN to maintain love and peace -
And get cheap holidays in Greece?
NO to save our Britishness?
YES to avoid economic mess?
Obama tells us to stay IN –
WTF's it got to do with him!
If no solution can be found
What will then become of us?
The arguments go round and round –
Like the wheels on the EU bus.