Attrition


Image: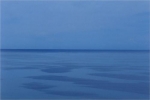 Sun, 10 Jul 2016
Slick vast crush of bare ocean,
split white with dolphin crest
and the roll and the roll,
frets and worries at the lip of the world.
Canted concrete gulls circle above
the hiss and the flow,
the caw and the caw,
insistent wings clung to wind.
Thin foam salt fingers dissipate,
mark sand ruts,
give up their hearts,
here, here in the slipping shades
of darker shadow, rock
eroded by an ailing ocean 
and the ragged beachhead
and the moulting gullwings
and the stone strewn shoreline
of the lost
and the losing.