Opinion - Five Reasons for Rhyme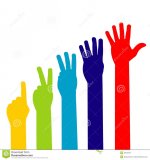 Mon, 28 Nov 2016
The feet of free verse can be flat
But rhyme can scarper like a cat.
Beauty, spirit, elegance,
Form mirrors feeling - come let's dance.
Poetry to ballad first belonged
All poems started out as song.
If ease of use must play a part,
It's easier to learn rhyme by heart.
Although some rubbish rhymes are queasy
Composing rhyme, well it feels more easy.
​​So get some rhyme books on your shelf,
​And if you want any more you can sing it yourself!