Soothing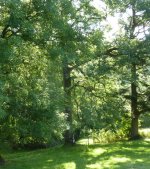 Sat, 08 Jul 2017
A quiet, sheltered, hidden glade
with dappled light,
and ample shade;
in days of scorching summer heat,
the soothing green
a filtering screen
of sunshine's beat.
High atop the shading trees
a playful, teasing, shaking breeze
– leafy patterns shift and change,
shimmer, shiver, rearrange.;
sparks of sunshine in the glade,
varying depths of dappled shade.
[this week's IP: theme of light and/or shade]