DIY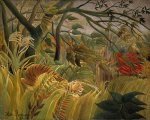 Sun, 24 Sep 2017
2 likes
Paper peelings fall as confetti on a wintery afternoon,
jungle creepers fly from their familiar place, 
she - a wild thing in the storm,
stripping leaves they'd chosen,
lured by that hint of something hidden
and the lovely name, Vymura,
a charm for the home that they would make.
Not for them his parents' anaglypta
glowing nicotine brown in the early morning light,
the patina locked in,
glossed against the tremors of the world.
Nor her parents' careless disregard
for the temporary battlements of short-term rentals,
behind which pennies were scraped
for children's shoes - and food for the encroaching evening.
Her nails and knuckles bruise in the frantic undressing of walls,
forcing them beyond the point of restoration -
astonishing, the transformation into strange
and how cool, the plaster against her cheek
as she reads that heart-shaped message
they had sketched as a totem
ancient and forgotten
as the eye of a bison etched in blood
in a cave at midnight
by the light of a stinking, flesh-fed fire.