Helping Recall?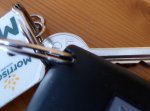 Fri, 02 Mar 2018
Some have strong eidetic memory (photographic) –
useful for Kim's game
and for 'Where is my key?'
(viewing detail of places seen);
some use mnemonic tricks and antics –
odd associations made
to help storage of information,
retention, retrieval, recall –
for example, as you pop your key (temporarily)
on the bookshelf, mentally link
to a picture of keys unlocking books;
or try to form an acronym, like
KODUP (Keys On Desk Under Papers),
or maybe just retrace your day
from when last handled –
'talking at the counter,
key ring hooked around finger
too much in hands,
signing, keys put down on the shelf below …'
But is the problem recall, or not bothering
to try to memorise such matters,
mind elsewhere?
So brain has to be exercised
in lateral thinking
how many key hideouts are there within reach all day?!
Pray, and begin the search.
[IP: KIm's Game]