Junk Mail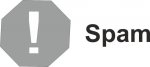 Thu, 18 Oct 2018
1 likes
An irritating scheme or scam–
the emails wind up
regularly in my 'Spam' –
another name, not mine
appears, though my address
is hijacked.
I haven't signed up
for their offers,
but it seems
to unsubscribe (sign out)
you must first properly
subscribe (sign in)
– what a twist-about???
and,
that,
I think,
might open up a link
to viral trouble
so,
just let them get sunk
into Junk,
stashed in Trash
until Spam is deleted –
their ploys defeated?
[Poetry monthly October: 'I didn't sign up to this'