Band of One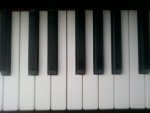 Thu, 08 Nov 2018
1 likes
Everyone's a great musician.  You're a great musician, too.  You want
to join a band.  You go along to the first rehearsals, and everyone
else is there, jamming away, really getting it on.  You find your
place and join in, and it all goes along okay for a few bars.  Then the
lead guy stops playing and holds up his hand for everyone else to stop,
too.  They do.  He then looks at you.
"You just joined us?  Okay, this is what we're doing.  Just go along with this."
They start up again, and you get in with it.  It's all going along fine.
And then the lead guy stops and holds his hand up again.  Everyone stops.  He looks at you again.
"What's that you're playing?  It doesn't seem right.  Show us."
So, you play your piece solo, and it seems good.  But then he stops you.
"You sure you got that instrument tuned right?"
You check.  It seems fine.  The others all shrug. 
They start up again.  You start in with it, on cue.  It's going along alright again...
Then the lead guy stops it all for the third time.  Again, he looks at you.
"You're in the wrong key, man.  Either that or you got the wrong tempo.  You're missing the beats, or something."
And so on it goes....
Finally, at the end, the lead guy has a quiet chat with a few of the others.  Then he comes over to you.
"Listen, we've got the members we need now.  Thanks for coming."
You pack up your instrument.  Just as you're about to leave, he stops you.
"Say... tell you what.  We need a driver for the van, and someone to set up the gear.  Would you be okay to do that?"
You turn and walk out.
In the High Street, you set up alone and start playing.
Pretty soon, coins are falling in your hat...