Monroe ( 10)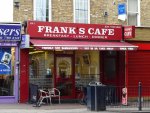 Thu, 06 Dec 2018
Frank returned to his bottle of wine and poured another glass. As much as he wanted to go to the scene of the fire and speak with the Officer In Charge, he knew he couldn't. This wasn't his case anymore. Jackson had been very clear about that. They'd shook hands and made a deal. Frank would stay away in return for information about Thomas Sago. That was it. Case closed as far as he was concerned.
But...he couldn't keep his mind off it. Every thirty minutes he'd find the local news, either on the TV or local radio and get an update about the fire. He turned in for bed at midnight, with a belly full of wine...and still no take away.
He was up at six, scrambled three eggs and set them on two slices of crisp toast. Black coffee and a cereal bar finished off his breakfast and he was ready to go. He was at his desk by seven thirty feeling refreshed and eager to face whatever the day threw at him. Taking the afternoon off was a good idea, he'd needed that, although he could have done without the phone call from Jenny. It was then that he remembered the piece of paper in his inside pocket. Fuck he was supposed to do it last night. No worries, he'd do it now, get it out of the way before Jenny had a fucking heart attack. He was just about to type in the details when he heard a familiar voice from behind him.
"Morning Frank, I wondered if we could have a chat?"
He turned round to see Jackson standing at the door. Frank smiled.
"Well good morning Jackson, wish I could help but I'm afraid I'm no longer on the case. We had a deal...remember?"
Jackson smiled and Frank knew immediately that this time it was genuine.
"Well how about we have a talk and maybe we could strike up another one. What do you say?"
Frank stood up and walked towards Jackson.
"Come on, there's a good cafe just round the corner. Coffee?"
Jackson did as he was told and followed Frank to a small cafe a few seconds walk from the station.
A young Polish girl brought them over two coffees and Frank looked at Jackson.
"Okay before we start, can you give me an honest answer to two questions?"
Jackson nodded. Frank leaned forward.
"Where have you come from? I don't mean as in are you a fucking alien, but just now, where you travelled from, where you based?"
Jackson responded without hesitation.
"Flew into City Airport from Belfast. That's where my office is. Either there or London. But my home is in Belfast. Second question?"
Frank thought that made sense. Belfast is a forty-five minute flight from City Airport and the flights start coming in around 6.30am, a quick Black cab and he'd be at Limehouse in ten minutes.
"What the fuck is your "REAL" name?"
This made Jackson burst out laughing.
"Frank, I'll tell you the honest answer. My dad got me the job back in 1998, I was only twenty-five and I was the new kid in the department. However, my Dad was a very senior member of the service and his name was Jack and EVERYONE knew him. So whenever anyone asked who I was, people would say "Oh him, he's Jack's son." And it stuck, everyone, including my wife, call me Jackson. My real name is Hubert, so as you can imagine, I'm quite happy with Jackson."
They both laughed and drank their coffee. Jackson continued.
"So here's my new deal Frank. How about we work together on this one? You and your team work as "special advisors" helping us with local information about Sago and Doctor Jeremiah? Perhaps together we can find out who's responsible for what's going on?"
Frank didn't want to seem too enthusiastic but secretly he was excited by the proposition.
"What about my boss, what if he doesn't agree?"
Jackson shook his head.
"His agreement is just a phone call away."
Frank didn't need time to think about it, he wanted to be involved.
"Okay. Deal. Now tell me about Doctor Jeremiah."
Jackson stroked an imaginary beard on his chin as if he was thinking.
"I'm going to talk about him in the past tense because the remains of a body they found in the burnt out house at just after four o'clock this morning is almost certainly his. He was from Tanzania and his real name was Michael Kojo. His father was an advisor to the President and a very much respected official in the Government at the time. However, Michael Kojo was gay and was caught in a very compromising situation in the capital city of Dodoma. Being gay in Tanzania is a serious offence and Michael was facing life imprisonment. He father approached us and we struck a deal. He would keep us informed of what was happening within the Tanzanian Government and we would get him out of the country and set up in the UK. He came to me in 1995, he was a religious man and so we set up a small Church for him. To be fair to Michael, he built the thing up to what it is today, yes we help him with funding from time to time, but he's grown the congregation to around 300."
Frank was intrigued by the news about Doctor Jeremiah. He wanted to know the answer to one more question.
"How many of his congregation were ex Boco Haram or linked to any other terrorist organisation?"
Jackson once again didn't hesitate and opened up his brief case. He handed Frank a file.
"Just two Frank. One from Boco Haram and one from Al Shabab in Somalia."  
Frank shrugged his shoulders.
"So why not just round these two guys up and move them to a secure location?"
Jackson frowned.
"We tried Frank, but both have been missing for the past twenty-four hours. Neither of them turned up for work yesterday morning and their flats are empty. Just like Thomas Sago's, there was no mobile or laptop found. So whoever killed Sago and Jeremiah and took the other two, may have access to some pretty sensitive information."
Frank was confused.
"Like what?"
Jackson leaned forward and spoke softer.
"Look, I'm not the only one that does what I do. It's estimated that there are around 200 people like Sago here in the UK. Some in Birmingham, Manchester, Liverpool and Newcastle. There are Doctors, Nurses and Solicitors, all have been of service and then set up in the local community. Some of them have been here for a lifetime. As I said to you before we keep our eyes on them for a short while and then they're on their own. Trying to contact all of them would be impossible. We need to contain this quickly before we have bodies turning up all over the place."
Frank wondered how that could possibly happen.
"But how do they find each other, they're told to keep their heads down, surely they would just keep themselves to themselves?"
Jackson smiled.
"Human nature Frank. Eventually they get lonely, homesick. They think they're safe and then start digging hoping to find someone from their home country that's in a similar position to them. There's a network in place that's very difficult to stop."
Jackson looked at his watch. I've got a flight to catch Frank. But I'll be in touch. He handed Frank a post-it note.
"I bought a cheap pay as you go phone at the airport this morning. Here's the number. Call me anytime. You're the only one that's got it, so whenever it rings I'll know it's you. Expect a call from your boss today saying that you're back on the case."
Jackson stood up, shook Franks hand and walked out of the cafe. Frank saw him flag down a Black cab and was gone. He finished his coffee and slowly walked back to the station. As he walked through the door he was greeted by a worried looking Mark.
"You forgot your phone Guv, we've been trying to contact you!"
Frank was worried. What the fuck was the problem? Another body?
"Okay, I'm here now. What's up?"
Mark blurted it out all in one go.
"It's your ex wife Guv, she's been going fucking mental on the phone. Something about a payment for the school?"