The Love of the Loveless (Chapter 6) (6)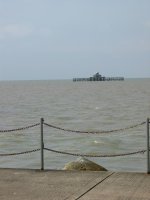 Sun, 03 Mar 2019
      I should have thought about it more.  I realised as soon as I saw mum's reaction.  It was a mistake.  It caught her out.  It was all too much.  All those faces.  All those memories - made larger, enhanced.  The family ones.  The wedding ones.  The best ones of her and dad, singly and together. The glamour star and the handsome soldier.  Both of them as they were, in the flush of youth, with their lives ahead of them - still to become completely enmeshed in one another, but close to it.  A time when they knew each other.  When love was fresh and full of hope, and promises made.  The beginning.  And then us, too. The children.  Me.  Karen.  Michael.  Michael looking as he did, not long before he died.  Michael as we always remembered him - as he always would be.
      The beginning and the end.
      Mum got up from the table, her eyes full of tears, and asked where the toilets were.  Karen went with her, and Rod asked the waitress if she could hold the meals for a bit.  She took them away again.  Rod went to get up, too, but Karen turned and made some kind of sign which he took to mean she was okay.  Natalie picked up the frame and continued looking at it. 
      We sat there in silence a few moments.  Rod took a drink and sighed.
      "These are so beautiful," said Natalie.  "I haven't seen them before."
      "They're her special ones," I said.  "She keeps them hidden away."
      "Maybe there's a reason for that," Rod said.
       It all crowded in on me at once. The hubbub of voices.  The background music.  The clink and clatter of glasses and cutlery.  It was like it had all been turned to full volume.  I felt something rising inside me.  I got up.
      "Sorry, folks.  I need some air."
      "You alright?" said Natalie.
      "Fine.  I just need a couple of minutes."
      I headed for the door, not looking to left or right, not needing anything but to get away.
      Outside, I found an empty picnic table, off to one side, and sat there alone.  I could feel my heart, like a hammer drill in my chest.  I had a sweat coming on. I hadn't been panicky like this for ages.  It just crept up like that, out of nowhere. I punched a moggy out of the strip, then realised I had nothing to wash it down with.  I popped it anyway and managed to swallow it before the taste hit me.  I took a breath, closed my eyes a second, tried to still it all down again. 
      The people at the other tables were drinking and chatting, enjoying the sunshine.  The sun felt good, and the breeze was gentle and calming.  Starlings were hopping around between the tables, pecking at the grass.  The sheen of their feathers made them look like they were made of wax. 
      I leaned on my elbows against the table top and relaxed a bit as the tablet kicked in.  There were a couple of plates there - the remains of someone's meal on one. A few chips. A blob of ketchup, like paint on a palette.  I picked up a couple of the chips and threw them down for the starlings.  They jumped at the movement, but then were straight down again, squabbling over the sudden feast.  I threw the rest of them down until the plate was empty - just the knife and fork, laid over the used napkin.
      The last thing I'd wanted to do was upset mum.  I'd just wanted this to be such a special thing for her.  And now I'd ruined it.  Like I always seemed to.  I just hadn't given it enough thought.  I knew she'd be alright.  I'd fix it somehow.  I'd take a day off later in the week and take her out for a trip, maybe.  That would be good.  Just the two of us.
      A sparrow landed on the table, saw my head move, then as quickly darted off again.  Next to the plates were a couple of glasses.  A tumbler, like the one I had for my drink, with a lemon rind in the bottom. Just the rind.  The drinker had eaten the lemon, too, as I always did.  Waste not, want not.  The other glass was a wine glass.  One of the big ones that held about a quarter of a bottle.  I noticed there was over an inch of wine left in it.  A good, round mouthful.  A thick, deep red.  A Cabernet, maybe, or a Merlot.  It seemed incredible to me.  Why would anyone leave it?  A wine like that?  In a pub like this, too, where that glass had probably cost a fiver.  More than I usually paid for a bottle.  If it was someone driving, why hadn't they just bought a smaller glass?  Obviously, it was someone with more money than sense.
      I reached out, put my fingers over the base, slid the glass towards me over the weather-worn wood of the table - like moving a chess piece.  I moved it in circles, watching the wine swill around.  A thick body, almost like a port.  I picked it up and tilted it.  Nice legs on it.  I lifted it to my nose.  The bouquet was firm and fruity.  A Pinot, I reckoned - not that I was any expert.  Good stuff, anyway.  Such a waste.
      I put the glass down again.
      "Will."
      There was Karen, standing there.  The look said it all.
      "I didn't touch it.  I was just smelling.  Someone left it here.  How's mum?"
      She turned back towards the door.
      "Why don't you come and find out.  When you've finished."
      I caught up with her at the bar, where she was asking if the meals could be served again. 
      "Karen."
      She didn't look at me.
      "It wasn't what you're thinking.  It was just left on the table.  I went out for some air."
      "Oh.  Quick glass of air, eh?"
      She looked at me then.
      "I just don't get it.  Why lie?  I saw you."
      "You saw what you wanted to see."
      She turned back to the table.  Mum was seated there again, next to Natalie, chatting happily.
      "We'd better get back there.  Let's not spoil this any more.  Today of all days."
      She strode back ahead of me - the gallant rescuer of the day.  The one who stepped in and sorted it all out, and made it right again.
      As always.
      And I followed behind.
      As always.
      Nothing more was said.  Not about that, anyway.  We ate our meals and sipped our drinks, chatting about trivial stuff - just chatting to keep the tone up, for mum's sake.  Most of it was about Rod and Karen, as I wasn't much good at that kind of thing.  Rod went on about business, and how he'd secured a nice couple of new orders.  Karen mentioned about going to Cuba for a holiday next year.  Natalie talked a bit more about school.  Mum mostly focused on how nice the pub was, and the food, and how Christmas was coming, and the things she got up to during her days.  The stuff on TV, the health of her neighbours, how the garden was doing.  Some medical appointments she had coming up.  Karen didn't look at me or talk to me once, which was just as well.
      When we were all done, mum yawned.
      "I'm tired.  I didn't sleep too well last night.  I think I'll have a nice nap when I get home."
      "Good idea, mum," I said.
      Once the settling up had been done, we got our things together and headed for the exit. We passed Shirley's table, and she raised her hand to me to speak.
      "Will... s-some things aren't always what they seem, isn't that right."
      I was stunned.  I just looked at her.
      "That's what the p-priest said today in church."
      "He was right, Shirley.  Yes."
      Her friends smiled at me.
      "I'll see you tomorrow, Shirley.  Enjoy the rest of your day."
      "Yes, a-and you."
      Rod and I were tailing a bit, so I nudged his arm.
      "Karen didn't see what she thought she saw.  I wanted you to know."
      He looked puzzled.  "I don't know what you mean.  What did she see?"
      I shook my head.  "It doesn't matter.  You'll hear soon enough."
      Outside, the picnic table had been cleared.  It sat there, in the shelter of the hedge, empty.  Just the starlings still bubbling in the grass around it.
      "That was lovely," said mum, as we settled in our seats.  "We'll have to come here again.  Thank you all so much."
      "That's alright, Eve," said Rod.  "We thought you'd like it."
      As we drove back, Rod put some light classical music on.  Karen and Natalie sat in the back chatting while mum closed her eyes and seemed to be nodding off.  The car was so smooth running and quiet that I felt drowsy myself.  Something occurred to me, though.
      "You said you'd been over to France in this, Rod," I said, quietly.  "You have to take breath test stuff now, don't you?"
      "It's not law yet, but I always carry them in the glove compartment."
      It was there in front of me.
      "Can I have a look?"
      "Sure."
      I took it out.  It was a simple unit, a bit like mum's blood sugar monitor, with a digital readout.  There were a few clip-on mouth tubes with it, individually-wrapped.  Karen and Natalie were still chatting behind me, oblivious.
      "Mind if I give it a try?"
      "Er... no, if you want to," said Rod.  "Not much point, though, is there?"
      "Just wanted to see if it worked.  Test it for you."
      I unwrapped one of the mouth tubes and clicked it in place.  I switched the unit on.  I took a deep breath and blew hard for several seconds.
      Karen suddenly poked her head forwards.
      "What are you doing?"
      I finished and showed her the readout.  Zero.
      "Just trying this out.  It works alright, see."
      She thumped back in her seat.
      "For God's sake!"
      Mum roused a bit.
      "What's up?"
      "Nothing, mum," I said.  "Just trying this breathalyser thing out.  It's good."
      "Waste of time on you," she said.  "You only had a tonic water."
      "I know.  But I just wanted to see how it worked."
      I heard Karen snort heavily, but she said nothing.
      I took the tube off and put the unit away again.
      "Thanks, Rod."
(to be continued)