In Troubadouric Tradition?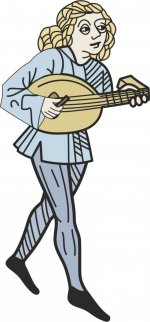 Mon, 11 Mar 2019
They tell a story of a man
who came one day, rode into town,
and entertained with conjuring tricks,
then left, his origins unknown…
… and so the rumours then began
– a 'wanted' man, his name was down
on lists for dangerous politics –
soon fictional shocking tales had grown.
When he returned, they forged a plan –
they'd lynch him, push him in to drown
(their alibis they'd carefully fix) –
he'd travelled friendless, all alone.
Soon, far away, their King began
to be concerned and wore a frown
'Who's seen the Prince – distribute pics':
to all, the traveller's face was shown.
[Poetry Monthly March: Rimas Dissolutas  … a French troubadouric verse (12th-13th centuries) in which unrhymed stanzas rhyme line by line with all of the other stanza]