Mountain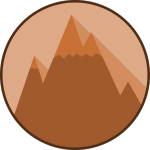 Tue, 16 Apr 2019
1 likes
First there is a mountain, then there is no mountain, then there is  (Donovan,1967)
    This sodding, bloody mountain. Up and down, up and down, down and up.  It can't even decide what size it wants to be. 
    Sometimes it feels like a foothill, or even a slight undulation.  No problem there.  With a bit of concentration and a bit of effort, up and over the top, on the plateau, and not even tempted to look down.  The weather's usually pretty good up here, the odd squally shower, nothing an umbrella and a mac can't cope with. 
    The downward slope can be quite gentle.  A slight pressure on the back of the calves, a few loose stones rolling nonchalantly past.  A quick adjustment in balance.  A wave to those following or in front.  OK, no problem, all fine here.  Ever onwards.  Lead on, MacDuff.  Yes, all right pedant, I know it should be 'lay on' but piss off, I want leading, not laying.  Har har, very funny, look, the sun's come out again and the slope's moving gently up.  Back on the plateau. 
    Sometimes the downward plunge takes you by surprise.  You'd forgotten it was this steep.  Your feet slip and slither.  The stones, the rocks, start bouncing down around you.   You look down and all you can see are jagged edges, the bottom of the mountain hidden in mist and darkness.  You flail around and try to grab hold of something.  Those in front or behind haven't noticed yet, they're probably having enough trouble maintaining their own balance.  Then they see you're not quite where you should be, and they reach out, but their fingers miss yours.  Look up, look up.  Or at the very least, look sideways.  Just don't look down.
    Your fingers find something.  A piece of rock, maybe one of those other hands, or a useful bit of kit you stashed away on your ascent and had forgotten was there.  It's a bit of an effort, making your way back up, a bit of blowing and panting, but there you are, plateau again, sun coming out.  Hello.  No, it's fine.  Just a bit of a slip.  No need to worry.  Who's got the picnic? 
    It's so lovely on the plateau.  The air is clear, the breeze is gentle, it smells nice, you can laugh with others, you can walk for miles without feeling tired, you can do pretty much what you feel like doing.  You get used to it.  Yes, this is all right.  Look, this plateau stretches as far as the eye can see.  In fact, this might not even be a plateau at all.  This is just solid ground, safe and reassuring.  There is no mountain.  Those slips and slides and flailing hands – no-one else had those.  Everyone else was just ambling along on the plateau, enjoying the sunshine.  Don't know what you were up to, thinking it was so hard to stay on the level.  Overactive imagination, that's your problem.  Just do what everyone else does, walk in the same direction.  No reason why you shouldn't be able to keep up.  There is no mountain.
    You're not certain what it is at first.  A bit of a rumble.  Those loose stones again.  No-one else seems to feel it.  No, thank you, I'm fine, I don't need the stick.  Or the rope.  Just a bit tired, I expect, been walking for a while now.  No no, you go on.  I'm right behind you.  I'll be with you in a minute.
    When the ground fails, it just goes.  One minute it's there, and then your feet are treading on nothing, and the mountainside is rushing past you on your way down, other hands dimly glimpsed in the distance, jagged edges and useful kit mere blurs as you cannon towards the bottom.  You just watch it all, with a sort of wonder, too tired to care really, not particularly interested in what might be underneath all that mist and darkness.  You barely notice when you land.  The mist and darkness are above you now, and you can't see anything.  That's OK.  It's all right down here.  It's surprisingly comfortable, if you don't move.  You can hear voices calling, faintly, but it's too much effort to call back.  They'll give up after a while.  They'll move on, up there on the plateau.  Sod it.  Who wants to be on the plateau anyway?  It's not as if they'll miss you.  It's not as if they care.  They probably haven't even noticed.  There probably isn't even a plateau.  It was all a dream.  There's just this, comfortable mist and darkness and quiet down here on the ground.  No mountain.
    Perhaps someone comes abseiling down after you.  Or one voice shouts louder than the rest.  Or you shift on the ground and suddenly it feels hard, there's some stones digging into your back.  You're not comfortable any more.  You don't want to be here.  You look up, and the mist and darkness has thinned just a little, and you can see it.
    The sodding mountain. 
    If there's a mountain, there must be a plateau. 
    Is it worth it?  Is it really worth all that effort to get back up there again?
    Bugger alone knows.  But I can't be doing with these stones in my back.  All right, all right, give me a moment, I'm just lacing up my boots.  Let's see if we can make it to the foothills.